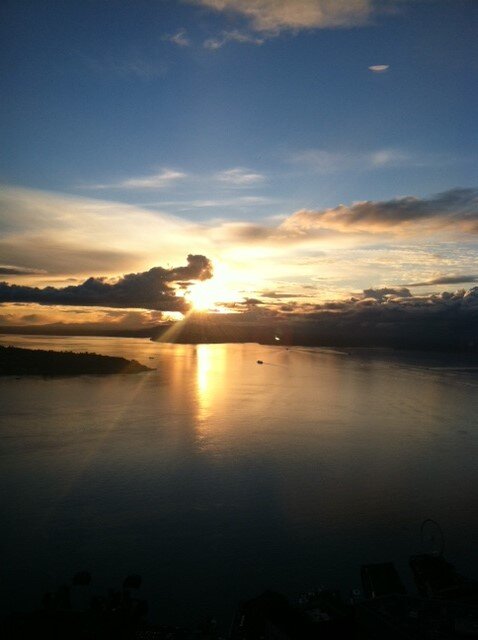 By Brian Hansford, account director for Heinz Marketing
We just complete our first big field marketing event of 2013, the B2B Modern Marketing Roundup.  I wanted to share how we designed the event and key takeaways that can help you deliver a successful program.
Seattle is a fantastic entrepreneurial community with tons of energy and fantastic business talent. However, high quality events for B2B Marketers are rare in the Emerald City.  Sure, there are plenty of social media events and standard business networking programs and lots of great parties. But high value B2B marketing content is very limited
For the 2013 B2B Modern Marketing Roundup we wanted to provide ideas that modern marketers could immediately put into action.  Most importantly – NO VENDOR PITCHES.  We wanted to share great ideas and encourage action and implementation!
The Mission We Requested and Accepted
Every event needs an objective and desired outcomes.  Our number one mission was curating and delivering content that Seattle's Modern Marketers could use that would immediately help them build customer engagement and drive revenue. To support the mission we wanted special companies that could deliver the desired content. The kicker? We wanted sessions that were only 15 minutes each.  And we were going to deliver this great content in less than two hours and not the 4, 5 or even 8 boring hours many of us are used to.
Here's the Takeaway – Break the mold. Or at least change the shape of the mold. Just because everyone else does an event a certain way doesn't mean it's the right way.  One simple tweak on the length of presentations was a critical success factor for our event.
The Right Team
We are incredibly fortunate to have a great team at Heinz Marketing and we are heavily focused on a core set of values.  We all bring fantastic talent to any program or account unique experience strengths, passions, brainpower, and energy. No single person can build and execute a program like this alone.  The entire team at Heinz Marketing rallied around this event from the beginning.
Here's the takeaway – Get the team behind your effort. The program leader should set the right example.  Give opportunities for ownership. Test ideas.  Make it fun. Provide constructive feedback. Celebrate success.
Content and Partners
Between Heinz Marketing and Eloqua we develop some of the most respected B2B sales and marketing content anywhere.  But I wanted to build a deep bench talent beyond Heinz and Eloqua.  I recruited NetProspex and Full Circle CRM to share their ideas and guidance on using quality data in B2B marketing, and how to effectively measure the results in Salesforce.com.  With four vendors on board, I could have rested.  But we wanted more!  I recruited Ryan Schwartz from DocuSign to share some of his incredible ideas how he and his team use Eloqua every day.  To top it off we were very fortunate to have Jessica Davis and Alexandra Evans from Avalara share their case study on using thought leadership to drive demand.
Here's the Takeaway – Find the right partners and customers who can deliver high value content to support your event theme and audience.  Set the parameters and the objectives so everyone is on the same page.  Set deadlines for draft presentations. Provide a deck template that all presenters should follow. (Even though some won't.) Make the content available on SlideShare after the event.
Event Format – Just Say NO to 60 Minute Sessions
Our presentations were going to be short and intense – only 15 minutes each.  No exceptions. We designed content tracks for Modern Marketers, Marketing Leadership, and Sales Leadership.  Attendees could mix and choose the sessions across the tracks as they wanted.  The 15 minute format was incredibly popular! Every single attendee and speaker I spoke with afterwards said the 15 minutes was perfect because the messages were focused. I had one attendee in particular tell me she would not have attended if the sessions were the typical 45-60 minutes each.
Here's the takeaway – You can deliver high value content in a short session.  If you can't, you are doing it wrong.
Promotion
We made the event "invitation only" by design.  Of course we still had people register or just show up who weren't on our invitation list and that wasn't a problem.  Eloqua, Full Circle CRM and NetProspex all helped promote the event in partnership with Heinz Marketing.  Most importantly, we had clients and colleagues encourage their network to attend.  We focused on selective email, blog, Eloqua Topliners, and a few social media channels for promotion.
Takeaways – Find the right channels to promote attendance. Don't rely on any single channel or partner to drive attendance. Target the right segment with the right message.   Make events 'exclusive' to build interest.
Technology
We developed the segmentation and targeting strategy and targeted our outbound communications accordingly using Eloqua. We certainly weren't perfect with the segmentation and execution.  But we learned a lot and developed some fantastic ideas for the next event.  We event test some new Eloqua ideas that were invisible to the invitees but incredibly important.  Also, we made all event content available on SlideShare following the event.
Takeaways – Find the right audience for your event and reach out using the right mix of technology.  Technology is an event enabler.
Venue
We wanted a unique venue for this event.  The content was ready, the format was in place. What we needed was the perfect venue.  We chose the best venue for this program and that was the Columbia Tower Club.  The one challenge we had was getting more people to attend than we expected and that made two rooms cozy.  But the 15 minute format saved the day!  The views, service, and catering made the event perfect for the 2013 B2B Modern Marketing Roundup.
Logistics
There is ALWAYS something that can be done better, or details that fall through the cracks.  AV equipment like microphones, projectors, and slide clickers are sneaky details.  For the sessions we had Heinz team members assigned to sessions to help the presenters and to watch the 15 minute clock.  We also had a team at the front desk for check-in.
Key Takeaways – No detail is too small. Don't assume anything. Use a white board to map every detail when designing the attendee experience. Make sure everyone has an assignment and they are empowered to solve problems.
Reflection and Follow Up
Events like these take a lot of planning and preparation.  There are tons of moving parts and people involved. Get creative with new ideas for your field marketing event.  With the right team, compelling content, unique format and logistics, you can build a meaningful connection with your intended audience.