B2B Reads: 12 Ways to generate B2B Leads, 3 Key elements of a B2B GTM Strategy, and 4 Tested Website SEO Performance Boosts and more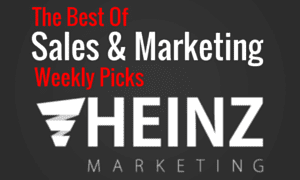 Summary
Some of our favorite B2B sales & marketing posts from around the web this week.
In addition to our Sunday App of the Week feature, we also summarize some of our favorite B2B sales & marketing posts from around the web each week. We'll miss a ton of great stuff, so if you found something you think is worth sharing please let us know.
New Report Looks at Evolving Consumer Expectations of Social Media Marketing By Andrew Hutchinson
Sprout Social surveyed over 1,800 social media users, and 900 marketers across the U.S. and the U.K., giving it a broad survey pool, which should make its data fairly indicative of broader shifts. Read the highlights and download the full report.
Get Your B2B Sales Team Ready for the Power of Generative AI By Stephen D'Angelo, Bryan Gauch, Audrey Hawks, and Matt Ward
Sales managers should put away their skepticism about GenAI. It is more powerful, yet more personal, than traditional AI, offering tangible value to sales teams.
3 Key Elements of a B2B Go-to-Market Strategy (with Examples)By: Elizaveta Shkurina
A sound go-to-market strategy (GTM) cannot be overlooked when planning your product or service release. An effective GTM can be fairly straightforward, but it should always provide the strategic underpinning on which future marketing efforts rest.
12 Ways To Generate B2B Leads In 2023 By HYPERISE
The truth is, it's tough to generate B2B leads that convert into sustainable customers. This guide aims to help you by providing 12 ideas for generating B2B sales leads. For beginners, we'll also explain the basics of generating high-quality B2B lead.
B2B Sales Funnels: Strategies and Examples By Vito Vishnepolsky
This article delves into six core strategies that form the bedrock of successful B2B sales funnels, accompanied by real-world examples that illuminate their effectiveness. Whether you're an experienced B2B sales expert or a newcomer, this guide provides actionable insights for boosting conversions, nurturing leads, and sealing deals. Join us as we uncover the winning formula that shapes exceptional B2B sales funnels!
4 Tested Website SEO Performance Boosts Your Agency Should Tap Right Now By Michelle Reid
There could be a hidden treasure trove for conversion rates right before you. But first, you'll have to clear the path by removing hidden barriers on your site. Here's everything you need to know about accessibility, and what you can do to boost your clients' performance.