B2B Reads: Full-Funnel Ramp Up, Data Driven Storytelling, & Creating The Greatest Impact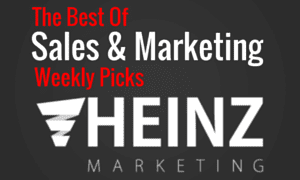 In addition to our Sunday App of the Week feature, we also summarize some of our favorite B2B sales & marketing posts from around the web each week. We'll miss a ton of great stuff, so if you found something you think is worth sharing please add it to the comments below.
Are You Pulling The Thread Through?
When that feeling of disconnect from work arises it's important as leaders to pull the thread through. When we pull the thread through, we are reaffirming the story about why we and our teams are doing what we do, through everything we do. Thank you for the great read, Eblin Group.
If You Don't Plan Your Time, Somebody Else Will
Most people are stingy with their money and generous with their time. But why are people so cheap with their money and so wasteful with their time? Here is why it seems backwards. Thank you for the great read, Nir Eyal.
Why Advertisers Are Ramping Up More Full-Funnel Marketing Strategies
At some point, you saturate acquisition and there's only so much low-hanging fruit. It's time to move from acquisition to full-funnel marketing when you've gotten all the low-hanging fruit you can and now you need to widen your funnel and bring more people into your brand. Thank you for the great read, Kimeko McCoy.
In 2022, Should B2B Content Marketers Focus More On Advertising?
Many B2B marketers focus on 'content' rather than advertising, but is that the best thing to do in 2022? Thank you for the great read, Samuel Scott.
The Data Driven Future Of Storytelling
The head of MIT's Center for Constructive Communication talks about how data can help storytellers, what audiences of the future might look like, and why artificial intelligence cannot replace human creativity. Thank you, Deb Roy & Jonathan Dunn, for the great read.
Organizations Need "Context-Managers"
Context managers are the only ones capable of breaking down and translating the core purpose of the organization as well as its overall transformative project into digestible, meaningful and implementable pieces of organizational practice. This is why no company can succeed without having engaged context managers. Thank you for the great read, Erhard Friedberg.
Developing Brand Image: Chatbots Are B2B Marketers' Secret Weapon
Although the B2B audience's purchasing decisions are often swayed by ROI and longevity as opposed to fashion statements and trends, the core purchasing beliefs are the same. Whether a brand is B2B or B2C, people want to deal with a brand they like and trust. Thank you, Jacob Lucas, for the great read.
3 Competencies You Need To Lead This Year
The new world of work that we face in 2022 requires new leadership competencies. Learn to develop the competency of emotional intelligence and other leadership competencies to help you create authentic and deep connections with your employees and support their mental, physical and emotional well-being. Thank you for the great read, Denise Lee Yohn.
The Importance Of Researching Sales Prospects Before Making Contact
Somehow, as we have grown up, we've lost sight of the importance of "doing our homework." Yet, the stakes for doing our homework may be much greater than when we were kids. Thank you for the great read, David Brock.
Simple Actions And A Deep Curiosity Make The Greatest Impact
Over the past two years, leaders have been put to the test. Executives everywhere have been forced to rethink, restrategize, restructure, and relaunch. Yet despite these efforts, businesses are struggling to retain employees and keep them engaged. Thank you, Jim Haudan, for the great read.