B2B Reads: 100 Best Marketing Blogs, Conquer Top 10 Lead Gen. Challenges, 6 Top Ways to Use ChatGPT (+18 prompts) and More!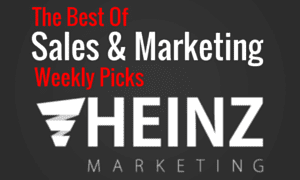 Summary
Some of our favorite B2B sales and marketing posts from around the web this week.
In addition to our Sunday App of the Week feature, we also summarize some of our favorite B2B sales & marketing posts from around the web each week. We'll miss a ton of great stuff, so if you found something you think is worth sharing please let us know.
10 Steps to Generate B2B Sales Leads from Email Marketing By Anisha Dutta
When executed effectively, email marketing for lead generation can evolve into a powerful catalyst for revenue growth. However, achieving this requires a meticulous strategy backed by vigilant monitoring. This comprehensive guide to email marketing B2B lead generation will empower you to harness the full potential of email outreach and consistently generate conversions.
B2B Marketing Leaders – Develop A Customer-Obsessed Strategy For Growth By Forrester
Heightened buyer expectations have raised the stakes for B2B marketers. As buyers take control of the purchasing process, marketing leaders must align their peers across functions to provide an exceptional experience that delivers value at every touchpoint. Achieving this takes a relentless customer focus — and the courage to break away from familiar approaches.
Can Artificial Intelligence Write Better Email Subject Lines Than Humans? By Paul Roetzer
Explore how AI works with email subject lines and why you should get inspiration from AI when writing email subject lines. You'll also learn about some of the best AI email subject line generators.
B2B Sales Lead Generation: Top 10 Challenges & Tips to Conquer Them By Paul van de Kamp
Sales professionals encounter difficulties in generating leads. Neglecting to address this issue can potentially spell disaster for a business. In this article, we'll explore these common B2B sales lead generation obstacles and provide effective solutions to ensure your business not only survives but thrives.
100 Best B2B Marketing Blogs and Websites by Feedspot
The best B2B Marketing blogs from thousands of blogs on the web and ranked by traffic, social media followers & freshness.
How to Supercharge Your B2B Sales Funnel: Insider Tips & Tricks By Ojesvi Singh
optimized B2B sales funnel stages come in. It's a strategic roadmap that, when leveraged correctly, can significantly boost your business growth. In fact, did you know that 48% of companies want a well-optimized sales funnel to more revenue? It shows the pivotal role that a finely-tuned B2B sales funnel plays in driving success.
Top 6 Ways To Use ChatGPT For B2B Sales (+18 Prompts) By: Sushant Shekhar
dive into the top ways you can use ChatGPT to transform your B2B sales efforts, with over 10 practical prompts to help you make the most of this path-breaking technology.