B2B Reads: 3 Challenges for B2B Marketers in 2024, What are the Circles of Doom? and more!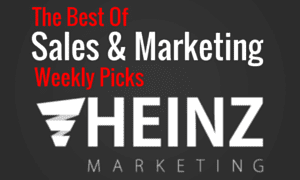 Summary
Some of our favorite B2B sales and marketing posts from around the web this week.
In addition to our Sunday App of the Week feature, we also summarize some of our favorite B2B sales & marketing posts from around the web each week. We'll miss a ton of great stuff, so if you found something you think is worth sharing please let us know.
Three Challenges for B2B Marketers in 2024 By Hernan Vera
While we can't predict specific challenges that B2B marketers will face in 2024, we can share what we hear from our client marketing leaders. We've identified some common challenges likely to persist or evolve in the B2B marketing landscape.
Q&A: For B2B Sales Workflow, There Must Be a Better Way By Mike Hockett
Often, too many people are involved in the B2B sales workflow, the right people aren't, or they don't have access to needed information. We chat with vSimple's Katie Duvall on sales communication blind spots.
2 Top B2B Marketing Tools For Successful Teams [2024] By: Monika Kisielewska
A curated a list of the best B2B marketing tools recommended by cognism.
Customer Insights Can Seriously Elevate Your B2B Game By Jason Ball
New data shows the B2B marketers that are closest to their customers are consistently outperforming their competitors on tactics. Who needs what we're selling and why? Discover the answers to those two questions and it'll shape your marketing strategy into something that has a direct and powerful impact on your bottom line.  This article will take a closer look at how these customer insights can specifically impact the bottom line.
B2B Email Marketing Guide With Examples [2024] By Marilia Dimitriou
Read on to unravel the secrets of email marketing for B2B, from choosing an advanced email service provider (ESP) to creating an effective onboarding sequence and so on.
Measuring B2B Sales Efficiency with Sales Automation Metrics By B2B Rocket
Discover how to measure B2B sales efficiency using automation metrics. Improve conversions, streamline processes, and boost revenue with data-driven insights.
The 'Circles of Doom': Quantifying the Misalignment of B2B Marketing and Sales By Jon Lombardo & Peter Weinberg
Marketing can only generate an effective pipeline if it targets the same buyers as sales, but new research shows the overlap – even between brand and demand marketing – is often shockingly small.