B2B Reads: PLG & Sales in 2023, 5 Data-Driven B2B Demand Gen Strategies for 2023, 5 Best Practices for Lead Routing in 2023 & More!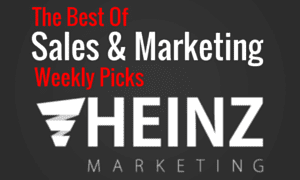 In addition to our Sunday App of the Week feature, we also summarize some of our favorite B2B sales & marketing posts from around the web each week. We'll miss a ton of great stuff, so if you found something you think is worth sharing please email me.
The content marketer's guide to AI and content maturity From the team at Writer.
The best content marketing teams use AI to increase content velocity, widen distribution, and simplify orchestration. The more mature and organized your operations are, the more your team will benefit from these tools.
We have to reimagine how we work by Latané Conant
Case Study:  Read the story of how Latané and team use AI to scale content, fuel growth, and reinforce the 6sense brand voice across every written asset.
9 Sales Enablement Tools Your SDRs Will Love By Brian Liebel
One of the best ways to ensure your SDRs gain an advantage over your competitors is to equip them with the best sales enablement tools available.
PLG and Sales in 2023: How to Combine Them for Efficient Revenue Growth by Kyle Poyar
Kyle is distilling massive learnings into a concrete guide to PLG and sales in 2023 and shares your five step plan.
"Explain It Like I'm Five!" – ChatGPT Breaks Down Exactly What Sandler Does… and Gives Salespeople a Powerful Communication Tool By Jody Williamson at Sandler
We're often faced with the challenge of making complex or unfamiliar material comprehensible to prospective buyers, without losing the essence of the original message. This, as it turns out, is something that today's breathtaking information technology is pretty good at.
5 Data-Driven B2B Demand Generation Strategies to Implement in 2023 By Gaurav Roy
Understanding the role of data in your demand generation is a vital part of B2B success. Thoughtfully using with strategies similar to what we discussed today, can uncover opportunities for growing your presence.
5 Best Practices for Lead Routing in 2023 by Abhishek Nayak
By embracing these best practices, organizations can create a seamless and personalized lead journey, ensuring that every lead is promptly and effectively nurtured. Remember, your leads are the lifeblood of your business! Dynamic lead routing is no longer a luxury but a necessity in today's competitive business landscape.
15 Killer Cold Email Templates to Nail Sales Outreach in 2023 (Updated) By Steli Efti
Building a cold email campaign is a labor of love. It takes time, knowledge, and a deep understanding of who your audience is and what they want.