B2B Reads: AI-powered website audit, 50 Social Selling Statistics You Need to know and more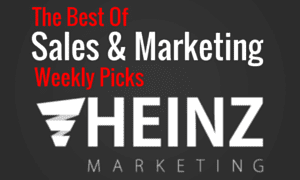 Summary
Some of our favorite B2B sales and marketing posts from around the web we found this week.
Every Saturday we summarize some of our favorite B2B sales & marketing posts from around the web each week. We'll miss a ton of great stuff, so if you found something you think is worth sharing please email me.
AI-Powered Webpage Audit and Optimization: SEO and Conversion in 8 Prompts By Andy Crestodina
How can we train AI to recommend edits to our most important pages that drive measurable impact for both search rankings and conversions? This article answers that question. It's a step-by-step framework for using AI to evaluate and score the performance of our pages in three ways.
Why Your Sales Team Should Be Part of Your Marketing Strategy By Leslie Licano
Even knowing that sales is the driving force behind a marketing campaign, it's surprising to find how many PR and marketing agencies fail to loop in the sales team when developing its strategy. Read on for a few benefits of connecting with sales when creating your marketing plans.
Designing Your Business for Lifecycle Longevity By Jerry Creighton Sr.
There are two important steps needed for a business to be considered durable. They are year-over-year relevancy and resiliency. Let's define and examine these two critical factors. Together, relevancy and resiliency are the key capabilities to produce a predictable and justifiable, year-over-year durable business.
How to Avoid Creating an Annoying Email Campaign By Andrew Martins
As a small business owner, you must keep your customers' perception of your company in mind. One way to quickly degrade that perception is by foisting an annoying email marketing campaign upon their inboxes. If you're looking to start spreading your company's message, follow these email marketing best practices to make sure you don't alienate any potential customers by being a nuisance.
Why CMOs should adopt the mindset of a futurist By Lizzy Foo Kune
CMOs need to teach people to fight for the right to look into the future. It's a concrete action that produces results. While predicting the future is a fool's errand at the best of times, and a near-impossibility in 2023, CMOs that can perform decision-making under uncertainty will differentiate themselves enough to gain a competitive advantage.
50 Social Selling Statistics You Need to Know in 2023 By Lestraundra Alfred
Social selling is a unique opportunity to naturally and non-intrusively engage prospective buyers through social media. In this post, you'll explore 50 social selling statistics to help you get started.