B2B Reads: B2B Communications, Adapting to Buyer Behavior, & Being a Risk Manager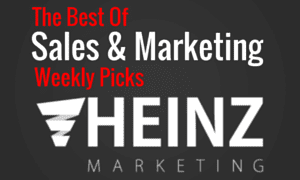 In addition to our Sunday App of the Week feature, we also summarize some of our favorite B2B sales & marketing posts from around the web each week. We'll miss a ton of great stuff, so if you found something you think is worth sharing please add it to the comments below.
5 Best Practices For B2B Communications
B2B communication isn't rocket science, and you can grasp it relatively quickly once you get familiar with how business relationships work. Here are five best practices of business-to-business communication. Thank you for the great read, Alexa Dagostino.
Why The Death Of Third-party Cookies Is Actually A Modern Advertiser's Dream
As marketers across the globe fret over the impending demise of the third-party cookie, the deprecation could actually create valuable new opportunities to create relevance, deliver personalized, effective messages, drive performance and measure impact. Thank you for the great read, Tim Jones.
100+ Content Marketing Trends and Predictions for Success in 2022
For nearly two years, content marketers have shifted gears, switched focus, executed 360s, and navigated turbulence so often it feels like we've created a whole new storm category. Should we bother trying to forecast the patterns that will sweep across our industry in 2022? Thank you for the great read, Stephanie Stahl.
The 10 Sales Behaviors That Are Deal-Breakers for B2B Buyers
Based on recent research by Korn Ferry, B2B buyers say the sales behaviors that are the biggest deal-breakers are when a salesperson does not understand their business, talks too much, and is not supportive after a sale. Thank you for the great read, Ayaz Nanji.
Employers Roll Out 'Stay' Interviews As Record Number of Americans Walk Off The Job
To keep employees happy, more companies are turning to one-on-one meetings to give key people the chance to talk about what is or isn't working in their current jobs. Thank you for the great read, Martha White.
4 Ways CEOs Can Adapt To Buyer Behavior
Here are 4 factors to consider as you reimagine better ways to connect and engage with customers and prospects. Thank you for the great read, Joe Galvin.
How To Convince Yourself To Do Hard Things
When we feel exhausted, our brains want to save mental energy by directing our focus to the most readily available, recallable information to help us make decisions quickly. We often do this by going with our gut and making our best guess.Thank you for the great read, David Rock.
Benefits and Pitfalls of Thought Leadership
Successful thought leadership must be recognized to be authentic, original and cover relevant topics and trends within the industry. Many potential thought leaders fail to properly engage with audiences because their messages aren't tailored enough to resonate. Thank you for the great read, Mary Nguyen.
3 Ways To Add Creativity To Your Writing
Has your copy lost its zing? Struggling to infuse some magic into your next writing project or post? Looking for a way to turn boring research into a riveting story? You're not alone. Deadlines and dry topics can sap the energy from anyone's writing over time. Thank you for the great read, Brian Pittman.
Why Every Leader Needs To Be A Risk Manager
Thinking about risk is every leader's responsibility. Here are five ways to engage the entire organization to be proactively managing risks. Thank you for the great read, Princess Castleberry.