B2B Reads: Better Business Decisions, Limitless Willpower, & Lifelong Learning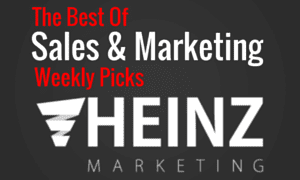 In addition to our Sunday App of the Week feature, we also summarize some of our favorite B2B sales & marketing posts from around the web each week. We'll miss a ton of great stuff, so if you found something you think is worth sharing please add it to the comments below.
Council Post: How To Build Better B2B Relationships In The Virtual Age
Now that buyer and seller interactions are largely limited to the online realm, your ability to develop strong personal relationships is even more essential to the B2B sales process. Thank you for the great read, Gideon Thomas.
Multi-Channel B2B Lead Generation: 8 Steps to Success
Building an effective B2B lead generation campaign isn't easy, but it's worth getting right. Here's how to set yours up in 8 proven steps. Thank you, John Lincoln, for the great read.
How To Make Better Business Decisions
Effective decision making in today's complex and disrupted business environments must be connected, contextual and continuous to drive good outcomes. Thank you for the great read, Mike Rollings.
What Is Your Criteria For Deciding?
We are all in the decision-making business – especially as leaders. In order for us to make effective decisions, we need clear decision criteria. Thank you, Kevin Eikenberry, for the great read.
Good News! Your Willpower Isn't Limited- Don't Believe the "Ego Depletion" Theory
Contrary to the "ego depletion" theory, willpower is not a depletable resource if you know how to use it wisely. Thank you for the great read, Nir Eyal.
Leaders: Clarify Your Ideas Before Communicating Them
Every week, you communicate a variety of messages to your bosses, employees and customers. Many of your ideas are aimed at creating a better future — that's what leaders do! But will they be understood and acted on? Thank you for the great read, Paul B. Thornton.
Change Doesn't Have To Be Difficult, Costly, and Weird
If you're like most people, your reaction to change is probably more negative than positive. Why is the idea of change – especially change imposed upon us by others – so unwelcomed? Thank you, Erika Andersen, for the great read.
Social Listening Guide: 8 Ways Companies Can Use Social Data
Social listening is a weird discipline. It's so versatile that it can be tricky to define – or even narrow doesn't to a brief list of benefits or use cases. Thank you for the great read, Aleh Barysevich.
Getting Difficult Questions From Your Employees? 3 Tips to Facilitate Dialogue and Understanding
In this challenging period, there's no shortage of tough questions on people's minds. Being prepared and practicing these three tried-and-true techniques can help you feel at ease with challenging employee questions. Thank you for the great read, David Grossman.
Lifelong Learning With A Career: Workplace trends, October 2021
Maybe there hasn't been much time for in-depth exploration of a new subject since the pandemic struck; some of us might even feel that the space for this disappeared when we left the education system. But a career is a long time to not have space to learn something new. Thank you for the great read, Quartz.