B2B Reads: 12 Lead Gen Techniques, 7 Email Marketing Tips, 11 Incentive Program Strategies and More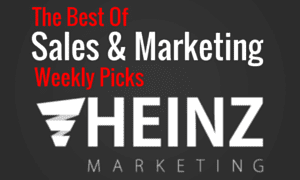 Summary
Some of our favorite B2B sales & marketing posts from around the web this week.
In addition to our Sunday App of the Week feature, we also summarize some of our favorite B2B sales & marketing posts from around the web each week. We'll miss a ton of great stuff, so if you found something you think is worth sharing please let us know.
12 effective B2B sales strategies and lead generation techniques By Louise Donnery
Utilizing B2B sales strategies can help businesses to achieve their goals. Learn more about successful strategies to increase leads from &Open today.
B2B Sales Strategy For Getting Leads Like An Expert by Kobe Digital
A B2B sales strategy is essential to selling to your target customer. This guide was created because many companies struggle to generate leads.
7 Email Marketing Tips to Increase Your B2B Sales By Robert Katai
Here are a few email marketing tips to be of help to marketers when conducting B2B marketing as email is still the quickest and most effective channel of communication for receiving and transmitting data and therefore, can be profitable and effective – should you know what are you doing and how to adapt your strategy to your audience.
11 Strategies for Successful B2B Incentive Programs By Jessica Huhn
At its core, a B2B incentive program is a way for businesses to reward customers, distributors, or other types of channel sales partners. No matter what type of B2B incentive program you plan to offer, these strategies will help you cater to your most valuable business partners.
The 14 Best Lead-Generating B2B Marketing Channels By Eleanor Hecks
The goal is to have plenty of quality B2B marketing channels, not necessarily possess every single one. Understand how your customers engage through their journey before determining which channels are the most important to them and perfect these first. So, which channels are the most profitable and tempting for B2B clients?
How to Build a B2B Email List By Ellie Diamond
To build relationships and convert interested prospects, you need to know how to build a B2B email list and use effective list-building tools. Here are 12 ideas you can use today, whether you're growing your email list or building it from scratch.
From Obsolete To Innovative: How B2B Sales And Marketing Are Changing By Rubie Rusine
Read to explore how B2B sales and marketing campaigns are changing, and how business owners can stay ahead of the curve by embracing new, innovative strategies.