B2B Reads: Campaign testing, 2023 design trends and marketing predictions, new pressure for CMO's, and MORE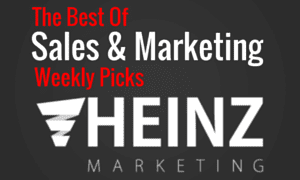 In addition to our Sunday App of the Week feature, we also summarize some of our favorite B2B sales & marketing posts from around the web each week. We'll miss a ton of great stuff, so if you found something you think is worth sharing please add it to the comments below.
Balance the Risk and Reward of Campaign Testing By Erik Koenig
The solution to navigating the performance marketer's dilemma. As a performance marketer there are no free moves. Navigate the tradeoffs by prioritizing the variables that will make the biggest impact, trust the data to limit risk, and integrate your strategy for maximum reach. Most importantly, stay in the game.
Add Actionable Measurement Practices to Your Campaign Planning By Kat Dykeman
Kat says measurement can provide immense value at the planning stage, assisting marketers in crafting campaigns that are more effective and more efficient. She shares three areas in which advertisers should consider measurement when setting up a campaign.
Infographic Design Trends for 2023 [Infographic] article By Andrew Hutchinson
Looking for ways to make your visuals stand out in 2023? This could help – the team from Venngage have put together a new overview of key visual trends in infographics, and how you could look to present your data in the new year.
2023 Is A Pivotal Year For B2B Marketing—Are You Ready? By Dee Blohm
Some interesting lessons and tactics from B2C that can be applied to B2B in these uncertain economic times.  With small wins, B2B marketers can lean into their success and advance their marketing strategy in a new, more profitable direction.
Will CMOs Face New Pressure to Prove Their Worth? By Chris Warren
What a recession might mean for chief marketers.  As companies began to double down on their online marketing efforts due to the pandemic, newly hired CMOs were able to command higher salaries. But the calculus for CMO pay may be changing, as companies face a possible recession.
As influencer marketing grows up, brands, agencies experiment with new content tools like bots By Antoinette Siu
Influencer marketing is maturing as a business for many marketers and media agencies as they find ways to leverage creator content and gain new audiences.
The Future of Privacy: Predictions for 2023 By Brook Terran
Read to hear reflections from Tim Sleath, VP of product management at VDX.tv and Scarlett Shipp, president and COO of AnalyticsIQ as they break down the state of the industry, and the changes advertisers can expect to see from the start of the new year.
Edgy Campaigns Are Out, TikTok Won't Stop and Other 2023 Predictions for Marketers By Patrick Coffee
In a year to play defense, CMOs will struggle to get flashy projects greenlighted and AI will be ever more used for online brand protection. CMOs might feel they're flying blind, but those who can 'embrace the gray' may flourish. Read on to see how.
Top 4 trends in loyalty and engagement for 2023 By Michelle Wildenauer
Discover how customer loyalty and engagement programs can boost your brand. Michelle explains four trends and key opportunities to help marketers drive engagement and loyalty next year as well as how brands can appeal to value-driven consumers, deliver the right "phygital" experiences, communicate their purpose and prioritize employee engagement to drive customer loyalty.
Where does executive presence matter most at work? By Joel Garfinkle
When you're working in or aspiring to gain a leadership position, very little is about the tasks you do. Quite a lot is about the image you project.  Joel shares excerpts from his presentation, "Executive Presence: Four Ways to Convey Confidence and Command Respect as a Leader," and explains how to build a reputation as someone whom both employees and senior management can rely.