B2B Reads: Change, Challenges & Happiness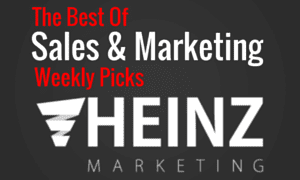 In addition to our Sunday App of the Week feature, we also summarize some of our favorite B2B sales & marketing posts from around the web each week. We'll miss a ton of great stuff, so if you found something you think is worth sharing please add it to the comments below.
5 Energizing Conversation Starters for One-on-Ones
The primary purpose for one-on-ones is development as employees won't understand the importance and the how of growing if they aren't being measured and coached. Performance must improve, but an engaging and productive conversation during one-on-ones are crucial for lasting success. Some energizing conversation starters during these intimate meetings include leadership qualities, energy, relationships, priorities, and vulnerability. Thank you, Dan Rockwell, for these helpful tips in energizing conversations. 
Breaking Out of the Cycle of Lazy Thinking – A Dog Story
Lazy thinking is a direct result of too much reliance on repetition and patterns as we stop thinking critically. This article writes to compare these habits of ours to a training dog and how consistency helps develop trust, it's negative for creativity and innovative ideas. Through new experiences, we have the ability to break out of this cycle as ours brains are unfamiliar with this new information and are able to open up in flexible thinking. Read more to discover additional methods in breaking out of lazy thinking! Thank you, Phil McKinney, for this interesting analogy and information. 
Jason Gots: "Our Concept of Happiness Needs to Be Spacious Enough for the Vastness of Life Itself."
During this interview focused on happiness, habits, and creativity, Jason Gots highlights how he understands now that happiness is not all or nothing and it truly comes in all different forms and types. He elaborates on how the best habit he's picked up is dedicating his time intentionally to different kinds of work depending on the natural rhythms of his feelings and intuition. Through Jason Gots' diversified experiences in writing, music, and life he sprinkles some of his lessons and light within this conversation with Gretchen Rubin. Thank you, Jason Gots and Gretchen Rubin, for this inspired interview. 
How Change Management Shapes Your Success…or Failure
As nearly every organization has undergone nearly five significant changes within the past three changes, only 34% were considered a success and this is an issue because change is undeniable. It's important to create a process for change that increases that chance of it shedding meaning and lasting success. To begin, a company must establish this process for change through a change assessment or strategy. Then, metrics must be defined both quantitatively and qualitatively. Thank you, Maria Geokezas, for your sharing this important process for change success. 
Solve Any Problem By Adjusting Target, Team And Frequency
Regardless of how small or large a challenge might be when facing a company, there are three important ideas to truly understand the situation and reality. The first being, to define the target and how clear and aligned the team is about it. Secondly, the business must identify who on the team is working towards adjusting the challenge. Lastly, it's important to note the frequency this team is meeting in to discuss any progress towards solving the challenge. Thank you, Marc Braun, for helping us better understand how to overcome challenges in the workplace through these three steps.

Podcasting for B2B Marketing Thought Leaders
Podcasting has emerged as a powerful marketing tool, especially for B2B leaders in the workplace. Some tips in learning how to run a successful B2B marketing podcast include defining a clear purpose for your company's podcast, designing the podcast's length and frequency, company storytelling, improving brand credibility, ensuring high quality production, and promoting the business podcast. Thank you, Ginni Saraswati, for this great read on B2B marketing podcasts. 
Harnessing the Power of Age Diversity
Over the years, the conflict between generations has grown amongst the five generations working in the US. It's a back and forth game with tension that isn't helping draw us together but pitting these groups against one another. Many organizations don't take the steps to address these generational issues while it's becoming a missed opportunity. Age-diverse teams are incredibly valuable in the workplace as they have the ability to bring people together with complementary abilities, skills, and information. Read more to learn how this can be done effectively by each generation and within the business, as well as the long term benefits. Thank you, Megan W. Gerhardt, Josephine Nachemson-Ekwall, and Brandon Fogel, for these powerful insights.  
Prominent CEO Survey Reveals a Critical Challenge for Business in 2022
One surprisingly critical business challenge amongst CEOs across various industries, large and small, is political polarization. With the rise of the media, political tensions are ever-growing conversations that are now very public. The positions and stances CEOs take on varying political issues take up strategic space in corporate visions statements. While it's often Fortune 500 CEOs who appear to have greater pressure regarding this issue, it's also important for small business leaders from early stage entrepreneurs to think about how they approach these topics once brought up because this will impact the image of their company. Thank you, Jeff Steen, for this very interesting read. 
CX in B2B: can we have true personalization without a person?
Many B2B organizations have shifted their efforts to being more customer and market focused which helps content to be shaped first by the needs of the target audience. In addition to this transition, it's crucial to diversify this change from personalization as this is the user's unique experience with the company. Through digital technology, this is where the business would personalize their user's website experience, however many of the commonly used segmentations focused geographically, demographically, and psychographically are more role-faced than personal. However to create a truly personalized customer experience, companies need to align preferences to their audience through how the content is packaged and messaging. Read further to fully understand how personalization is defined for B2B! Thank you, Scott Gilum, for your research and ideas. 
AI Powered Digital Transformation in B2B Marketing
In short, Artificial Intelligence is a tool utilized to automate tasks and improve efficiencies. This digital transformation is becoming more prominent in B2B marketing as marketers feel increasingly comfortable with using this resource to help them in their work. AI can make future predictions based on historical data which can be useful through digital media analytics, as well as assisting marketers in providing an overall well-rounded experience for their customers. AI can also help B2B marketers through content creation, chatbots, digital advertising, and predictive analytics to increase total efficiency in the workplace. Thank you, Payal Parikh, for teaching us how to utilize AI as an effective marketing tool.