B2B Reads: Conquering Cold Calls, Better Sales Cycles, and More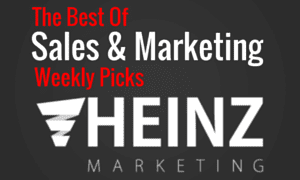 In addition to our Sunday App of the Week feature, we also summarize some of our favorite B2B sales & marketing posts from around the web each week. We'll miss a ton of great stuff, so if you found something you think is worth sharing please add it to the comments below.
Sales Cycles: An Actionable Guide to Sales Cycle Management by Steli Efti
In a way, the sales cycle is the heart of your company. It's how you turn strangers into customers. It's how you generate revenue, hire more salespeople, and build sustainable growth. Here, we'll cover everything you need to know about sales cycles, from what they are to how to document them to how to make them better.
What Is a Unified Customer Profile? by Lisa Lee
When companies don't have a single record of customer activity, interactions are impersonal, disjointed, outdated and, often, just plain annoying. Here's how to avoid that.
The Five Problems in Your Sales Pipeline by Anthony Iannarino
Sales leaders often require their sales force to fill their pipeline with several multiples of their quota. Ensuring you achieve your sales goal is a necessary goal, but this approach is a sign that the sales team isn't working effectively. Here are five common pipeline issues and how to address them.
How to Conquer Your Phone Anxiety and Close Deals by Julie Thomas
Phone communication is a fading skill, but it's still critical for many professions, such as sales. In this post, we'll guide you through how to recognize phone anxiety symptoms and how to get over phone anxiety with tips and exercises from experts.
11 Ways to Increase Credibility with Prospects, According to Expert Sales Reps by Rebecca Riserbato
Credibility is a precious resource in sales — and the success of your sales efforts can hinge upon how well you establish and develop yours throughout your conversations. Here, we've tapped some sales experts for their takes on how to increase credibility with prospects.
Sales Enablement Tools for B2B Businesses: Types, Importance, and Top 20 Tools in 2023 by Khoshant Lande
Sales enablement tools are critical for B2B businesses because they help organizations achieve their sales goals, enhance the efficiency of their sales processes, and improve customer relationships. Here are some of the top tools available for B2B companies now.