B2B Reads: Evolution of CRM Usage, Rethinking GTM, Repeatable Selling Motions and More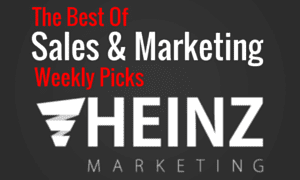 Summary
Some of our favorite B2B sales and marketing posts from around the web this week.
In addition to our Sunday App of the Week feature, we also summarize some of our favorite B2B sales & marketing posts from around the web each week. We'll miss a ton of great stuff, so if you found something you think is worth sharing please let us know.
3 ways MOps can Bridge the Gap in Marketing Analytics By Brooke Bartos
Marketing operations teams hold the key to proving marketing ROI and bridging knowledge gaps within organizations. Here are three ways MOps teams can help bridge the knowledge gap, delivering valuable insights that benefit the entire organization.
How B2B Firms' CRM Usage Is Evolving By Ayaz Nanji
B2B leaders say their firms have increasingly been using customer relationship management (CRM) systems as centralized communications hubs for nurturing leads, according to recent research from SugarCRM. The report was based on data from a survey conducted between May 15 and July 1, 2023, among more than 800 global B2B sales, marketing, service, and IT leaders across various industries.
The 'Circles of Doom': Quantifying the Misalignment of B2B Marketing and Sales By Jon Lombardo & Peter Weinberg
Marketing can only generate an effective pipeline if it targets the same buyers as sales, but new research shows the overlap – even between brand and demand marketing – is often shockingly small.
Required Reading: Rethink Go-to-Market with a Growth Mindset By Leonard Klie
Read about a framework to help B2B organizations transform their approaches to go-to-market (GTM) via a converged growth lens, using the concept of a chief growth officer (CGO) as an organizing principle for focused, orchestrated, and customer-centered growth.
Four Steps To Build Repeatable B2B Enterprise Selling Motions by Amelia Ibarra
Read to learn about an approach to aligning and executing B2B team selling motions for a rinse-and-repeat process for growth.
5 marketing buzzwords worth knowing By Sara Lebow
Marketers are the masters of the portmanteau—a combination of two existing words into a new concept. Words like "phygital," "fediverse," and "edutainment" are tossed around, but what do they actually mean? Here are a few of Sara's favorites.