B2B Reads: 12 Killer B2B Marketing Strategies, Budgets Right Now, 20 Best Lead Gen Strategies and More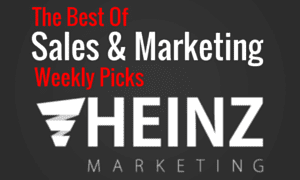 Summary
Some of our favorite B2B sales and marketing posts from around the web we found this week.
Every Saturday we summarize some of our favorite B2B sales & marketing posts from around the web each week. We'll miss a ton of great stuff, so if you found something you think is worth sharing please email me.
How Marketing Leaders Can Become The Only Credible Voice Of The Client By Alisha Lyndon Forbes Councils Member
The time has come for marketing leaders to step up to the pivotal role they have to play as the voice of their clients. By championing customer-centricity, marketing can surpass traditional boundaries, reshape the buying cycle and drive significant growth.
12 Killer B2B Marketing Strategies To Try In 2023 By Rebekah Carter
This article will take a look at the best B2B marketing strategies companies should be investing in right now, based on the emerging trends of the landscape.
Outlook Update: How Are B2B Marketing Budgets Changing Right Now? By Tequia Burt
It's valuable to have the latest context around how organizations are spending, and within that, where they are allocating their budgets.  Fortunately, we have quite a bit of new data to review that can help paint a clear picture of the current state of B2B marketing budgets. Tequia explores where things stand as we enter the second half of the year.
How to Successfully Manage All Stages of the Customer Lifecycle By Nina Petrov
Customer lifecycle management plays a large role in establishing and maintaining a powerful brand. This post outlines the stages of the customer lifecycle and the best strategies for how to manage each stage.
Choose the Right B2B Marketing Agency in 13 Steps (plus tips to boost your ROI) By elevationmarketing
Selecting a B2B marketing agency that provides exceptional results can help your business thrive in today's digital environment. In this blog, we explore the essential factors to consider when evaluating and hiring B2B marketing agencies and tips to help you maximize your ROI with your chosen agency.
20 Best B2B Lead Generation Strategies to Maximize Your Company's ROI in 2023 By Aris B.
This article will teach you about effective B2B lead generation strategies to maximize your business's return on investment (ROI). We will also explain the B2B lead generation process and its benefits.