B2B Reads: How to do Sales Development Right, Sales Meeting Ideas, Sales Negotiation Skills and more.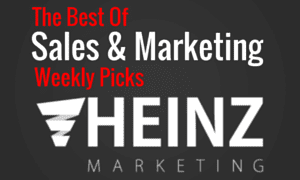 In addition to our Sunday App of the Week feature, we also summarize some of our favorite B2B sales & marketing posts from around the web each week. We'll miss a ton of great stuff, so if you found something you think is worth sharing please add it to the comments below.
Employees Need Gratitude ByJuliane Waack
According to studies, showing gratitude strengthens relationships, lifts the mood, and increases motivation. So why do so many companies fail to be grateful when it comes to their employees?
How Your Revenue Team Can Avoid These 5 Missteps in 2023 and Beyond By Caroline Forsey
Help your RevOps team drive growth.  Learn from Sendoso's VP or Revenue Operations to learn the biggest missteps she sees RevOps teams making and how you can avoid them.
Celebrating 3 STEM Trailblazers on International Women's Day 2023 By Joanne Black
Get ready to be inspired by three women who were so far ahead of their times. You'll be blown away by the achievements of these three women.
Sales Development: What It Is, Why It Matters, And How To Do It Right by Tito Bohrt
The business case for sales development is built on flawless logic and verified by market data. It's a lot better to sell to qualified prospects than to try your luck on a complete stranger. The more time your closers spend taking moonshots, the less sales they actually make. That's why the fastest growing B2B brands on the planet also run the largest and most sophisticated sales development teams in their class. The key takeaway: selling success is directly proportional to the efficiency of your sales development team.   Here are key sales development concepts and tactics you should know about.
12 Best Sales Meeting Ideas and Top Themes to Inspire Your Team By Amy Copadis
Your job is to help your team improve and excel. Start with ideas that are proven to be effective. So, look through these meeting ideas for your sales team, and test what works to motivate your reps.
7 Vital Sales Negotiation Skills Every Rep Needs By Anthony Iannarino
If you cannot negotiate, you'll find it difficult to advance the sale at each stage. Learning to negotiate is a skill you can use to create value, build trust, and make the final negotiation easier. In this article, Anthony highlights seven vital negotiation skills you need to create value for your clients and your company, advance sales at every stage, and close deals.
Power or Influence? Your Choice Determines Leadership Success By Steve McKee
Read on to hear Steve talk about how the key to effective leadership lies in understanding the difference between power and influence. Either one can move people, but one does so via coercion and the other inspiration.
Don't Forget Marketing When it Comes to Renewing Business By Emily Snyder
Here are a few marketing tactics that you can start using now to help keep customers coming back again and again.