B2B Reads: How to explain things better, make the most of sales networking, and what B2B buyers really want and more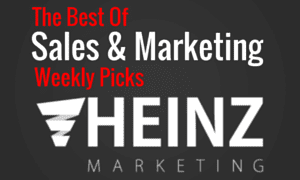 In addition to our Sunday App of the Week feature, we also summarize some of our favorite B2B sales & marketing posts from around the web each week. We'll miss a ton of great stuff, so if you found something you think is worth sharing please add it to the comments below.
5 Relationship-Building Tips Guaranteed to Improve Sales Performance by Mike DeCorso
Go back to basics.  Simplify your thinking and focus on the most fundamental aspect of your sales process: building relationships.
https://www.strategy-business.com/blog/Question-your-successes-as-much-as-your-failures by Adam Bryant
Question your successes as much as your failures, When the high-fives are over, it's important to interrogate the reasons behind your wins.
Uncertain times? Change your marketing focus, not your spend by Tyler Hartsook at SmartBrief.
Here are 5 proactive steps to take – not budgets to cut – to ensure successful marketing in uncertain times.
Always look on the bright side of life! Salesforce's State of Marketing report reveals marketers glasses half full by Stuart Lauchlan
Marketers reckon they're more valuable in their contribution to their organizations than ever.
Four Ways Leaders Can Sustain Strategic Success by Marty Strong
If you've been handing off big initiatives once you get approval from the board and other stakeholders, you might be setting up yourself up to fail.
Four Things A Kellogg Professor Learned After Launching A New Course On Sales Analytics
Joel Shapiro summarizes many valuable things for the sales and revenue leadership community– distilled into four helpful buckets
Anatomy of Google's Organic Search Snippets by Ann Smarty
Over the years Google has changed its search result pages, yet three elements of organic snippets remain, read Ann's article to see what they are.
How To Explain Things Better (Make People Understand You!)
You know that frustrating feeling when you're trying to get the point across, but you can't figure out how to make someone understand?
You need some science-backed hacks, tips, and tricks to ease the confusion. Logan Hailey will tell you how.
What B2B Buyers Really Care About  by Eric Almquist,, Jamie Cleghorn, and Lori Sherer
How to measure—and deliver—what business customers want
How to Make the Most of Sales Networking
Tips, Mistakes, and Examples by Anna Rubkiewicz