B2B Reads: Innovation in action, Better Customer Experience, Up Your Marketing with ChatGPT and MORE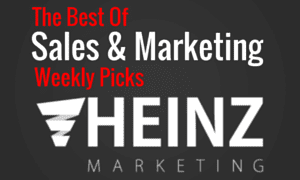 In addition to our Sunday App of the Week feature, we also summarize some of our favorite B2B sales & marketing posts from around the web each week. We'll miss a ton of great stuff, so if you found something you think is worth sharing please add it to the comments below.
Overconfidence and AI By Seth Godin
Seth suggests we insert our own preface with AI outputs, read why.
Are You High-Tech or High-Touch? By Joanne Black
You don't have to choose between being high-tech and high-touch. You can (and probably should) do both.
What Does Product-Market Fit Feel Like? ByCollin Stewart
Reaching product-market fit is the first 'only thing that matters' goal for a startup, but once you find it, go-to-market quickly becomes the next 'only thing that matters.'  Read to learn how you know when to invest in a go-to-market motion.
Navigating the New-Age B2B Marketing Skills Gap By Domenic Colasante, 2X CEO; Kerry Cunningham, 6sense Research & Thought Leadership; and Sara Boostani, 6sense Marketing Research Analyste on the 6sense Blog Home
Navigating the new-age B2B skills shortage comes down to focusing on the marketing organization and its capabilities and gaps, organizational transformation with the same attention that technology investments are budgeted, and focusing on different operating models and insourced/outsourced approaches.
6 Steps to Successful Strategic Marketing Planning By Uptempo
Knowing how to strategize marketing plans is a critical part of the marketing process. Now that you've completed the six steps of strategic marketing planning, you've set yourself and your team up for success.
Why Great Customer Marketing is Your Best Weapon in a Recession By PathFactory
Through regular and thoughtful customer marketing, you have an opportunity to create advocates that will sing your praises in all the places you can't reach.
Putting innovation into action By Craig Wentworth
How can an organization know that it's 'doing innovation' right? What measurements can you take to determine capability and capacity to innovate (generally), and the impact of a particular innovation project (specifically)?
5 Ways to Keep Up with Customer Expectations for a Better Customer Experience  By InflowCX
Customer expectations have never been higher when it comes to service levels and resolution times. This comes at a time when facing one of the most challenging labor landscapes in the contact center. Read on for some solutions.
7 ways ChatGPT can level up your marketing By Kent Lewis
The potential of ChatGTP and similar AI chatbots is profound. This is particularly true for marketers