B2B Reads: Lead a new team to success, master conscious conversations, tips for a game changing positive attitude and more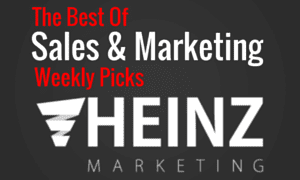 In addition to our Sunday App of the Week feature, we also summarize some of our favorite B2B sales & marketing posts from around the web each week. We'll miss a ton of great stuff, so if you found something you think is worth sharing please add it to the comments below.
Jonathan Friedman answers the question: Should Your First Sales Call Be a Discovery Call or a Demo? 
Your product demo is the proof behind your value proposition, and how you showcase it significantly impacts your business. Finding your sweet spot on the efficiency curve will ultimately accelerate revenue—and with modern demo platforms, you can simulate the ideal demo environment without actual deployment and technical know-how. The first ones to understand this and adapt will secure their market position and thrive in the long run.
Chuck Wisner shares How Mastering Conscious Conversations Can Maximize Collaboration
Understanding and practicing conscious conversations can be a difficult personal and interpersonal journey, but it's a journey well worth taking. As a leader, any steps you take to increase your awareness of the weight of your words will have a significant impact on others. Engaging in conscious conversations will empower the people around you. If you can harness that power, you and your team can move mountains
It's not enough to hide behind measurable strategies. We also need to do the hard work of creating a memorable brand. It will be worth the effort in the long run.  Learn Five B2B marketing trends that buck traditional tactics courtesy of Barb Mosher Zinck
When you purposefully choose to share content in online spaces to advance ideas around important topics, you become a thought leader. Learn How to grow a reputation as a thought leader by Becky Robinson
How to lead a new team to success by Alaina Love Implementing these seven principles will not only help you catalyze a strong start in your new role, it will inspire your team to deliver their best.

Marketing Micro-Moments This report discusses the importance of micro-experiences, which brands are doing it well, and how to create one for your own loyalty strategy.
5 Powerful Ways Having A Positive Attitude Can Be A Game Changer by Lolly Daskal  A positive attitude may not make you less stressed, but it can give you the skills you need to cope with stress in a healthier way. Check it out to learn some of the benefits of positivity.
The Smart Mission: NASA's Lessons for Managing Knowledge, People, and Projects by Edward J. Hoffman, Matthew Kohut and Laurence Prusak who share 5 key insights from their new book of the same name. Listen to the audio version—read by co-author Edward—in the Next Big Idea App.It can be easy to table long-term problems in the face of immediate crises it's been the leaders who think about the long term who are better positioned to mold their company's future to their liking.
Author Talks: How to maintain a 'Longpath' mindset, even amid short-term crises.  Learn how anyone—CEO, organizer, and beyond—can curb short-term thinking and help ensure a better world for future generations by developing the "Longpath" mindset. McKinsey Global Publishing's Ramya D'Rozario chats with futurist Ari Wallach about his new book, Longpath: Becoming the Great Ancestors Our Future Needs 
How to make web accessibility a part of digital marketing efforts by Alan K'necht
Accessibility experts share tips for digital marketing teams on how to make campaigns more accessible to people with disabilities.
Focusing On Right KPIs Can Help Marketers Survive Economic Downturns by Bryan Karas
To overcome growth stagnation, optimize revenue, and survive a stretch of economic uncertainty, marketers must adopt strategies that shift attention to the right KPIs. Read to learn the three KPI strategies that will help you build a more resilient, efficient, and profit-driven business in the months ahead.
Dmitry Chervonyi shares a few tips on how to do lead generation successfully.
Marketers use a number of methods to attract clients. Hypothesis testing helps to reveal which methods work best for you. However, lead generation is the most common method B2B marketers use to drive prospects to their organization.