B2B Reads: Leveraging AI, How to Think Strategically, and Improving Employee Performance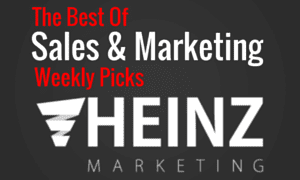 In addition to our Sunday App of the Week feature, we also summarize some of our favorite B2B sales & marketing posts from around the web each week. We'll miss a ton of great stuff, so if you found something you think is worth sharing please add it to the comments below.
The Sales Leader As Air Traffic Controller
In this article, David Mattson draws on a detailed analogy of sales leaders as air traffic controllers. He pulls out some of the key skills and characteristics that effective sales leaders strive towards, and gives practical advice on how leaders can better achieve them. He notes that successful organizations are "a function of the work between the sales team and the poised, professional, indispensable team leader, helping them navigate obstacles, reach their personal destination and hit their quota."
Why Personalization Is More Important Than Ever For Brands
Jo Hamilton here draws on new research from Twilio's State of Personalization Report, which writes that "62% of consumers say brands will lose their loyalty for delivering unpersonalized experiences, an increase from 45% last year." Hamilton then outlines the main factors driving effective personalization today like first-party data and trust.
Selling to New Leaders in Uncertain Times
In this blog post, Colleen Francis gives four helpful tips surrounding the best ways to sell to new leaders. Francis notes that many sellers are coming across new, sometimes inexperienced leaders that many not have the same frame of reference as veteran sellers. She writes: "all leaders, regardless of their experience, look for confidence-building support and insight. You must be that resource to them."
Evaluate Your Thinking With One Critical Question
For Larry Robertson, one simple questioned has redefined how he gains leadership insight: "How is this different?" What looks a very simple (or even unspecific) question unlocks a vital line of questioning for Robertson, who notes: "The real power in 'How is this different?' is in making it the guide to the collective conscience of the organization."
Six Ways to Use AI for B2B Growth
The global AI market is booming. According to data from MarketsandMarkets, the industry has a compound annual growth rate of 39.7%, writes Krishna Yadav. Yadav in this post offers six innovative ways for B2B marketers to leverage AI in their work. While many of these functions seem redundant to processes already taking place (like Social Media Insights or Customer Segmentation), Yadav exemplifies how AI can perform each task quicker and smarter.
3 Investments Marketing Leadership Should Consider Making to Improve Employee Performance
In this article, David Thompson proposes three investments that marketing leadership can make to improve employee performance. The investments include building a collaborative environment, putting your employees first, and investing in a smart, customizable CRM. Thompson expands on each front, offering insights on why each investment is valuable and what leaders can do to find the the right fit for them.
Web3 and the Future of Marketing
Kelly Cutler in this post outlines Web3 and marketing in the context of data privacy, a complex and interrelated subject in emerging technology. She offers zero-party data, customer-centric governance, and NFTs as vital considerations for marketers who are considering utilizing Web3 in their organization.
4 Reasons Why a Frictionless Business Will Ensure Your Survival
Bill Price offers an idyllic scenario: "Imagine dealing with a business that offers products that always work, deliveries that arrive as promised, instructions that are clear and understandable, and self-service that's easy to use. Their customers never have to contact them for the wrong reasons. They've created a frictionless customer experience." Price seeks to cultivate just that and offers reasons and tactics towards decreasing a business' friction.
How To Think Strategically As A Leader
In this blog post, David Burkus offers practical advice to leaders who wants to do more than simply be reactive in their decision-making. For Burkus, this is matter of asking a few key questions to rethink one's leadership strategy on a high level before tackling smaller, micro decisions.
How Marketing Leaders Can Steer Their Brands Through Inflation
"Marketers have the opportunity to not only curb inflationary pressures, but to also come out ahead as leaders in the industry by making the right performance improvements with the right marketing resources and tools," writes David Steinberg. Steinberg here outlines specific areas of improvement for marketers to navigate a highly inflated economy, including strategies like hyper-targeting and accelerating digital transformation.