B2B Reads: Purposeful Projects, Act Like a CEO, & Office Perks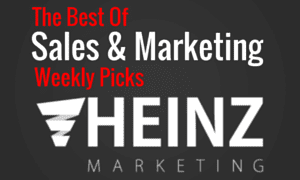 In addition to our Sunday App of the Week feature, we also summarize some of our favorite B2B sales & marketing posts from around the web each week. We'll miss a ton of great stuff, so if you found something you think is worth sharing please add it to the comments below.
Why Performance Reviews Don't Work
Here are some reasons performance reviews often fail and some practical steps you can take to offer feedback to your team that actually helps them grow and improve. Thank you for the great read, David Burkus.
What Employees Want From Employers
In the struggle to determine what employees want, many employers may wish they had the ability to read employees' minds. Here are five essential basics employers can provide to make themselves much more attractive to new and existing employees. Thank you for the great read, Denise Lee Yohn.
Does Your Project Have a Purpose
All project management methodologies demand that projects have a well-defined business case. But when evaluating and prioritizing projects, looking at the business case alone is not enough. Thank you, Antonio Nieto-Rodriguez, for the great read.
What's Really Causing Today's Extreme Talent Shortage
After huge recent fluctuations in the labor market—record low unemployment before the pandemic, record job losses during, and record re-hiring in the aftermath—employers are facing more severe talent shortages. Here's what you can do to fix it. Thanks for the great read, Bruce Tulgan.
20 Open-Ended Sales Questions That'll Get Prospects Talking to You
Sales qualification is a game of open-ended questions. Unless you ask the right questions, you won't uncover the right needs or understand the right problems to solve. Thank you for the great read, Tony Alessandra.
How To Act Like The CEO When You're Not
You don't want to walk around like the CEO when you aren't, but the term 'mini' CEO doesn't fit right. So here are some action items to consider. Thank you for the great read, Dan Rockwell.
Is Intrapreneurship The Solution For Unhappy Employees and Behind-the-times Businesses?
Employees want to engage in more nonlinear thinking that allows for an expansive and creative way of finding solutions to problems. And if leaders want to engage these inspiring workers, and harness their energy and ideas, they will need to pursue a concept that is decades old — intrapreneurship. Thank you for the great read, Frank Theodore Koe.
At Your Best: How to Get Time, Energy, and Priorities Working in Your Favor
Carey shares 5 key insights from his new book, At Your Best: How to Get Time, Energy, and Priorities Working in Your Favor. Thank you for the great read, Carey Nieuwhof.
Don't Stop Thinking About Tomorrow (with Strategy)
Many organizations engage in their annual planning event in early fall. Here are five ideas to guide your team through strategic planning as a process in 2022. Thank you, Dave Coffaro, for the great read.
Are Office Perks Obsolete?
Ten years ago, workplaces were all about tangible perks. But now workers want something different from their employers. Thank you for the great read, Anna Jones.