B2B Reads: Responsible AI, Inclusivity, Quality Content People Actually Want and MORE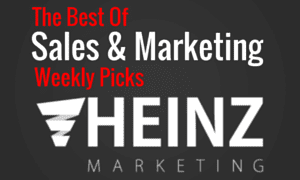 In addition to our Sunday App of the Week feature, we also summarize some of our favorite B2B sales & marketing posts from around the web each week. We'll miss a ton of great stuff, so if you found something you think is worth sharing please add it to the comments below.
'Drive with Purpose, Build on Trust: What Marketers Need to Know in 2023 [NEW REPORT from Reuters Events]
Get key takeaways from many of America's leading brands, the 12-page report provides insight into the latest trends and marketing strategies going into 2023.
The Ultimate Guide to Customer Retention by Twilio Segment
An in-depth look at how you can avoid the rising costs of customer acquisition
Edelman, LinkedIn: Thought Leadership Can Propel B-to-B Marketers Through Economic Downturn By David Cohen
Tap into the perspective of nearly 3,600 management-level professionals for insights into the buying behaviors of business-to-business decision-makers and C-suite executives during the current economic downturn and help add clarity on the value provided by thought leadership.
'Inclusion' Is The ANA's Marketing Word Of The Year by Richard Whitman
Every year the ANA does a poll of committee members throughout the organization to determine the "marketing word of the year." And for the second straight year, the chosen word is DEI-related. Last year it was "diversity" and this year it is "inclusion."
Content Creation Is About Quality, Not Quantity. Here's How to Create the Content People Actually Want. By Luka
You've defined your content strategy, assembled a team or found a great outsourcing partner. Before you can start creating content your audience wants to read and share, you need to set up systems that guarantee quality over quantity.
3 steps to prioritize responsible AI By Gaurav Rao
As you develop your organization's artificial intelligence (AI) strategy, consider this advice to develop responsible AI practices
Employees Want to Feel a Sense of Belonging at Work. Here's How Leaders Can Make That Possible. By Terrell Strayhorn, PhD
New evidence shows workplace belonging enhances the employee experience and organizational health. Here's why — and what leaders can do to make their employees feel like they belong.
The Principles of World-Class Brand Storytelling By Carolyn Griffin of Siegel+Gale
Hero, setting, plot—and how to combine them to bring your story to life
Your Team Doesn't Need You to Be the Hero (based on insights from Fredric Maddox)
Too many leaders instinctively try to fix a crisis themselves. A U.S. Army colonel explains how to curb this tendency in yourself and allow your teams to flourish.