B2B Reads: Team Culture, Customer Experience, and Self-Care for Salespeople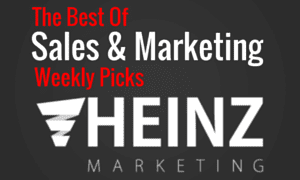 In addition to our Sunday App of the Week feature, we also summarize some of our favorite B2B sales & marketing posts from around the web each week. We'll miss a ton of great stuff, so if you found something you think is worth sharing please add it to the comments below.
What's all the hype about customer experience? by Emily Snyder
To keep customers coming back and to ensure you are giving them the experiences they deserve, try adding these three key aspects to your CX strategy.
Engaged Employees Create Better Customer Experiences by Denise Lee Yohn
When you have better employee understanding of the desired CX and their impact on it, you can also inspire greater commitment to the organization and its goals. Even more evidence that it makes sense to prioritize EX in CX efforts — especially now.
12 Customer Satisfaction Metrics You Should Be Monitoring in 2023 by Olga Rogacka
Customer satisfaction metrics measure how pleased customers are with your business. If the goal of customer service is to satisfy customers, these metrics help you measure your progress toward that goal.
The First Rule of Relationship Selling? Don't Sell by Sunita Gill
The goal of relationship selling is to create the feelings that build trust. This kind of trust is only possible when you forget about the quick sale, ask powerful questions, establish credibility, and play the long game.
5 Tips for Building a Sales Culture Optimized for Growth by David Priemer
Culture is not only a secret weapon but an integral and critical part of building an organization and team optimized for growth. By implementing the right practices and practicing them early and often, both the bottom line and existential payoffs can be extraordinary.
Battery Running Low? Here Are 10 Things Leading Sellers Do to Stay Charged by J.C. McKissen
Managing the challenges of being a seller means taking care of yourself. Here, McKissen shares some methods for caring for your mind, body, and spirit. Because the next sale is important, but so are you.
Secrets of Self-Discipline: How to Be Disciplined in 15 Imperfect Steps by Meg Prater
Self-discipline is a practice. Not every day you practice will be perfect, but each day brings you closer to your goal. In this guide, Prater covers tips and strategies to build self-discipline into your daily life.