B2B Reads: Work Flexibility, Strategic Innovation, & Your Leadership Point of View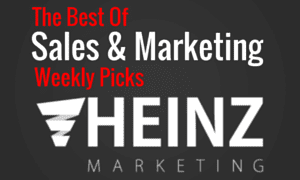 In addition to our Sunday App of the Week feature, we also summarize some of our favorite B2B sales & marketing posts from around the web each week. We'll miss a ton of great stuff, so if you found something you think is worth sharing please add it to the comments below.
The Future of Flexibility At Work
Based on years of research, a great outline of the downsides of work-life accommodation and boundaryless working and includes the tenets that organizations should follow as they develop their own flexibility programs and policies. Thank you, Ellen Ernst Kossek, Patricia Gettings, and Kaumudi Misra, for the great read.
Struggling to Write Effective Whitepapers? Here Are Five Steps for Planning One
Whitepapers are often the most challenging marketing pieces to create. Most marketers don't have the time or the resources to get such a complex project off the ground. Thank you, Colm O'Regan, for the great tips.
How To Recover After Making A Bad Decision At Work
Life is a balancing act, and we won't always get it right. So it's important to learn how to recover from a blunder at work without making a bad situation worse. Thank you for the great read, Harrison Monarth.
Moving From Product Features To Insight
We have a way to go in converting the conversations from product feature/function discussions to business discussions, to creating discussions around insights. But it's changing the way sales teams are engaging it's customers and prospects. Thank you for the great read, David Brock.
Engage your audience: The Q&A
Great insight into how to leave your audience with a lasting favorable impression by engaging them as active participants in the conversation. Thank you for the great read, Stephanie Scotti.
Why Strategic Innovation Requires Mastery Of The Institutional Context
While the customer is obviously central to strategic innovation, understanding and mastering the institutional context is also a key ingredient for achieving rapid success in those innovations that create new businesses and bring in fresh customers. Thank you, Steve Denning, for the great read.
The Power of Your Leadership Point of View
What are your thoughts about how you lead others, and where did those thoughts come from? You and the people around you could benefit from knowing your leadership point of view. Thank you for the great read, Ken Blanchard.
What to Know About 4-Day Workweeks
A recent Wall Street Journal article pondered whether the four-day workweek would become the "future of work." It's a good question, since the COVID-19 pandemic has led many companies to think outside of the box. Thank you for the great read, Robin Madell.
The Surprisingly Meaningful Difference Between Asking for Ideas and Questions
The pandemic has created many opportunities to see senior execs in action as they work to galvanize their teams, present new goals, and push for accomplishment and accountability, and there seems to be two very different ways of inviting — or dissuading — participation from team members. Thank you, Liz Kislik, for the great read.
Emotional Exhaustion Is Rampant, And Returning People To The "Old Normal" Will Not Help
To what degree are team members treated with respect in your work culture? How often are they validated for their ideas, efforts and contributions each day? Thank you for the great read, S. Chris Edmonds.