B2B Reads: 20 Effective Sales Tactics, What Sales Leaders Need to Know, Pinterest Ad Dollars on the Rise and more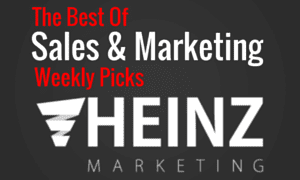 In addition to our Sunday App of the Week feature, we also summarize some of our favorite B2B sales & marketing posts from around the web each week. We'll miss a ton of great stuff, so if you found something you think is worth sharing please add it to the comments below.
20 Effective Sales Tactics Your Team Should Use in 2023 By Bryan Grover
If you're ready to level up your sales strategy, read through the top 20 sales tactics that will help you find and close more deals this year. (Free template).
It Takes Versatility to Lead in a Volatile World By Robert B. (Rob) Kaiser, Ryne A. Sherman, and Robert Hogan
Data collected since the first year of the pandemic has shown that versatility is an even stronger component of effective leadership now than it was before. The correlations between versatility and a variety of leadership outcomes — employee engagement, team agility, business unit productivity, and overall effectiveness — have only gotten stronger.  Read on…
How B2B Marketers Can Use an Organic Social Media Strategy for Success in 2023: Dorien Morin-van Dam on Marketing Smarts [Podcast] hosted by George B. Thomas
The 3Cs of Marketing is a popular concept (company, customers, and competitors). In Marketing Smarts Episode 537, host George B. Thomas and Dorien Morin-van Dam delve into the 3Cs of organic social media strategy.
Pinterest's quiet battle for ad dollars is getting louder By Krystal Scanlon
While Pinterest is not at the "going steady" stage of its relationship with advertisers, the courtship is well and truly underway. The way marketers talk about the social network is a testament to that.
In the 'age of AI,' what does it mean to be smart? By Author Talks
As artificial intelligence gets better at predicting human behavior, a business psychologist encourages people to strengthen the uniquely human skills that machine learning has yet to tap.
6 Questions to Ask Yourself When You're Frustrated with Your Team By Amii Barnard-Bahn and Noémie Le Pertel
Six questions will help managers revisit their expectations and make sure they're centering empathy in their attempts to encourage performance.
The Changing B2B Sales Landscape: What Sales Leaders Need to Know and Do By Erica Schultz
What you need to know about each of five key themes from the latest report Future of B2B Sales: The Big Reframe and what you can do to make sure your sales organization is well-positioned to address each of these areas in the year ahead. Savvy sales leaders will capitalize on the shifts while at the same time optimizing their salesforce for top performance.