B2B Reads: 9 Proven B2B Marketing Strategies for 2024, 11 Business Development Tips, 4 Things You Need to Automate and More!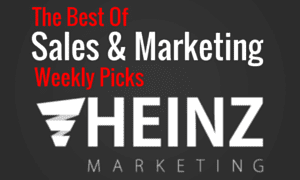 Summary
Some of our favorite B2B sales and marketing posts from around the web this week.
In addition to our Sunday App of the Week feature, we also summarize some of our favorite B2B sales & marketing posts from around the web each week. We'll miss a ton of great stuff, so if you found something you think is worth sharing please let us know.
9 Proven B2B Marketing Strategies for 2024 By: Alyssa Dannaker
B2B marketers' top objectives for the year ahead are brand awareness, lead generation, client retention, and sales support.  Explore nine essential B2B marketing strategies that can help companies succeed in all of these areas in 2024. From establishing a consistent brand identity to leveraging cutting-edge channels like webinars and podcasts, these actionable insights aim to accelerate your success in an increasingly competitive field.
The State Of Integrated Marketing In B2B By Demand Gen
The State of Integrated Marketing in B2B reveals that a sizable majority of B2B companies are currently using integrated marketing, and those who currently don't use it plan to within the next 12 months. However, a much smaller number of marketers are confident in their understanding and execution of integrated marketing initiatives. This report provides a closer look at the survey findings
B2B Business Development – 11 Tips to Boost Your B2B Strategy By: Frank DePino
No matter your business's scale or type, if you're contemplating integrating digital marketing strategies into your B2B sales development, this guide serves as a practical starting point.
The 12 Most Common B2B Marketing KPIs to Track Your Success in 2024 (and 9 Uncommon Ones) By: Ashley Levesque
In this guide, we'll explore not only the importance of measuring marketing KPIs for your B2B business but also delve into often-overlooked indicators that can significantly contribute to your overall success.
Future of B2B Sales: 8 High-Impact Trends to Watch For in 2024 By Anubhav Bhatt
As we look ahead to 2024, several key trends and technologies are poised to reshape the landscape of B2B sales.  In this blog, we will explore the exciting developments that are driving the future of B2B sales, empowering sales teams, and enabling businesses to thrive in the digital era.
4 Things in B2B Sales Ops That Need to be Automated By STS Staff Writer
One of the best ways to improve sales results is to automate the sales pipeline through automation to save both time and money in addition to other resources. To enhance the efficiency of the automation process, you need to identify the B2B SalesOps that must be automated. Read on to learn more about few of the most important aspects of B2B SalesOps that must undergo complete automation.