B2B Reads: Crisis vs. Predicament, New Year Planning & Transforming Companies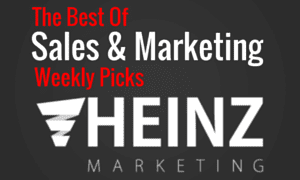 In addition to our Sunday App of the Week feature, we also summarize some of our favorite B2B sales & marketing posts from around the web each week. We'll miss a ton of great stuff, so if you found something you think is worth sharing please add it to the comments below.
How To Thrive In Uncertainty: Separate Crisis From Predicament
Crises are things that usually rally people to find solutions. Predicaments are a little more difficult. The difference is crucial, and it's a distinction every leader must come to comprehend to thrive in the often-outsized challenges of uncertain times. Thank you for the great read, Larry Robertson.
B2B Marketers: Make Your Email Newsletter a Thing
We think of our email list in a transactional manner: A sea of names to guide down the sales funnel, a vehicle to turn leads into opportunities. As a result, we create a drip campaign or an email nurture that does really work. Thank you for the great read, Dennis Shiao.
Does It Have To Be Perfect Or Can It Be Good Enough?
There's just not enough bandwidth or capacity for everything to be perfect. The competing commitments on our time and attention make it impossible to optimize every decision or project to a perfect level.Thank you for the great read, Eblin Group.
Reflecting Now To Create A Successful Year Ahead
Now is a great time to reflect on the past year in order to plan for the next. Here are some great ideas for how you might learn from your past, plan for your future, and become a better leader. Thank you for the great read, Denise Lee Yohn.
How To Win In A World With Talent Shortages And Supply Chain Challenges
From a conversation about talent and supply chain challenges with some of the leadership at Avaya, a cloud communications company that works with some of the world's largest companies and brands, helping them build experiences for both employees and customers. Thank you for the great read, Shep Hyken.
Executive Insights: Trends Marketers Should Keep An Eye On For 2022
See what trans executives are seeing in the marketplace this year that warrant a marketer's full attention. Here are a few from top executives in the industry. Thank you, Kaylee Hultgren, for the great read. 
B2B Buyers and Sellers Put Digital Commerce On A Faster Track
Based on a survey done by McKinsey & Co, the market pressures of the pandemic have accelerated a B2B shift to ecommerce, many buyers are more likely to switch suppliers and demand performance guarantees. Thank you for the great read, Mark Brohan.
A New Year Brings In Sharper Collaboration for B2B Players
B2B brands continue to struggle getting the most out of their marketing technology stack. But that's starting to change, as companies put more strategies in place based on collaboration. Thank you for the great read, Marie Griffin.
5 Things Emotionally Intelligent Managers Do Differently
Future successful managers will be described not as efficient or agile, but as something less expected: emotional. These managers will show more empathy towards workers and their needs, both inside and outside the office setting. Thank you, Liz Fosslien, for the great read.
Transforming Companies When Markets Begin to Change
Executives who spot signs of big market shifts need good data to convince stakeholders that their companies have to change. But by the time data about disruptive trends is public, opportunities have shrunk or disappeared, and their firms may be on burning platforms. How can leaders build the conviction to act before evidence is abundantly clear? Thank you for the great read, Pontas Siren, Scott D. Anthony, and Utsav Bhatt.