B2B Reads: Give It a Rest, Valuable Advice, & Evolving the CEO Mindset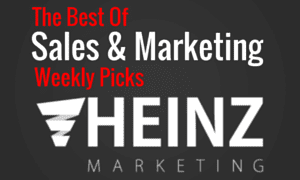 In addition to our Sunday App of the Week feature, we also summarize some of our favorite B2B sales & marketing posts from around the web each week. We'll miss a ton of great stuff, so if you found something you think is worth sharing please add it to the comments below.
How Leaders Can Help Employees "Give It a Rest"
A surprising interpretation of rest offers insights that there may very well be some ways leaders can help their team get reenergized.  Thank you for the great read, Jennifer Miller.
Use Your Influence To Inspire A New Generation Of Leaders
One of the hallmarks of a great leader is their ability to raise up and inspire a new generation of leaders. They don't hoard their talent, instead they look for opportunities to invest in others and they find ways to mentor and produce new leaders. Thank you for the great read, Tanveer Naseer.
How Valuable Is Your Advice?
Success in sales is the result of creating value for your prospective client, not of following your linear sales process or talking about your company, product, service, or "solution". Thank you for the great read, Anthony Iannarino.
What To Do When You Forget What To Say
How great would it be to have a perfect memory? To be able to stop losing your train of thought during the middle of a speech, because that happens sometimes. Well we don't have perfect memory, but there are things we can do as speakers to help when these moments arise. Thank you for the great read, drjim.
Discover Your Spark
Consciously or not, we all strive to feel that spark, the thing that makes you come truly alive. Enjoy these bits of actionable wisdom to help us all unlock our potential, motivation, impact, and joy. Thank you, Rachel Cooke, for the great read.
Great Leadership Is Radically Human
In many discussions around what effective leadership requires in these testing times, we repeatedly, and almost tediously, hear the word "resilience." Yet, what does resilience mean to us? And is it a fair measure of great leadership? Thank you for the great read, Kerry Azar.
Deactivate Your Digital Marketing Autopilot
Relying on agencies and aggregators to manage your digital spend may trade competitive advantage for convenience. Some companies are taking a different approach. Thank you for the great read, Peter Dahlstom, Alejandro Diaz, Kelly Ungerman, and Tom Youldon.
Making A Good First Impression
As the old saying goes, you never get a second chance to make a great first impression. Learn why first impressions are so powerful and how to make a good one that will last. Thank you for the great read, Shonna Waters.
Gifts Of The Great Resignation: Evolving the CEO Mindset
Whatever the causes of the Great Resignation, the companies that will thrive in this new environment are those that listen to their employees; create new, flexible models of work; develop innovative ways to foster internal talent; and build relationships with employees by creatively deploying storytelling techniques across multiple platforms. Thank you for the great read, Cher Murphy and Jeffrey Sindone.
Why CRM Is The Top First-Party Data Brand Strategy
Where are we heading? Let's examine some of the unprecedented challenges facing marketers and look at where the industry is going in 2021 and beyond as AI, tech and analytics are taking CRM to the next level. Thank you for the great read, Julie Liesse.