B2B Reads: 12 Killer B2B Marketing Strategies, 20 Common Types of Channel Partners and Where to Find Them, INBOUND Recap and more!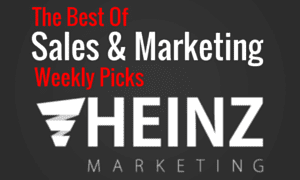 Summary
Some of our favorite B2B sales & marketing posts from around the web this week.
In addition to our Sunday App of the Week feature, we also summarize some of our favorite B2B sales & marketing posts from around the web each week. We'll miss a ton of great stuff, so if you found something you think is worth sharing please let us know.
Practical Ways to Attract & Nurture B2B Sales Leads in Your Sales Funnel By Unenabasi Ekeruke
Delve into practical ways you can attract and nurture B2B sales leads in your sales funnel. We've also sprinkled templates, tips and best practices to get you started on the right foot.
12 Killer B2B Marketing Strategies To Try In 2023 By Rebekah Carter
Look at the best B2B marketing strategies companies should be investing in right now, based on the emerging trends of the landscape.
INBOUND Recap: 4 Lessons about Revolutionizing B2B Sales with Revenue Acceleration By Alice Sol
Check out the plethora of actionable insights into how the modern salesforce can take advantage of the new trends and tools, while maintaining the core qualities that drive success and the 4 top takeaways.
7 examples of influencer marketing campaigns By Jamia Kenan
this article cites data from the Q3 2023 Pulse Survey and explore campaign types and 10 examples of successful influencer marketing campaigns to inspire your own strategy.
Marketing Techniques: What to Try in 2023 By Clifford Chi
To help you learn about the most effective marketing techniques around today, Clifford shares his round up of the best ones to add to your digital marketing toolbox.
20 Common Types of Channel Partners and How to Find Them By Trevor Burnett
Welcome to growth, multiplied. In this guide, we cover the most common types of channel partners, real-life examples, how to find them, and how to best leverage partners to drive growth.
What Is Market Segmentation? How it Works, Careers, and More By Coursera
Discover how market segmentation helps you reach new customers. Find out about marketing jobs and market segmentation salaries.
How do you scale and grow your performance marketing campaigns and results? Powered by AI and the LinkedIn community.
Find expert answers in this collaborative article.  Scroll to see contributions from invited experts. React to the ones you find valuable.