B2B Reads: The Power of Sales and Marketing Alignment, Traits and Mindsets of Successful Salespeople, AI Across the Sales Cycle & More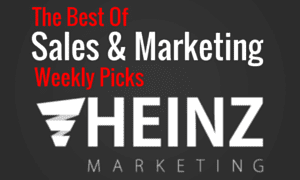 In addition to our Sunday App of the Week feature, we also summarize some of our favorite B2B sales & marketing posts from around the web each week. We'll miss a ton of great stuff, so if you found something you think is worth sharing please add it to the comments below.
31 Stats That Prove the Power of Sales and Marketing Alignment By Pamela Bump
A collection of some of the best sales marketing alignment research statistics to help capture the state of smarketing (sales and marketing) in 2023.
10 THINGS AI CAN DO FOR YOU RIGHT NOW By Juliane Waak
The future of artificial intelligence is exciting but for most of us, the more relevant question is what artificial intelligence can do to support our work, reduce workloads and increase efficiency right now.
7 Traits of Successful Salespeople for a Quota-Smashing Sales Team By Echobot
Learning to listen and putting your customer at the center of everything is the most important, but our experts also agree on one thing: Don't forget to have fun and don't take yourself too seriously!
Truth Bomb: Salespeople All Look Alike to B2B Buyers By Joanne Black
You have a choice. You can look like every other company, or you can set yourself apart from the rest.  The trick is getting in front of your buyers before they even know they need you, helping them identify the pain points they didn't know were hurting, gaining their trust, and building a relationship.
How to leverage AI across your sales cycle By By Elizabeth Dailing
Generative AI built into every stage of the sales process — where sales teams easily leverage its capabilities right within their workflows — has limitless potential.
4 Sales Tips To Thrive — Not Just Survive — In an Economic Downturn By Brittany Schmid
Don't let shrinking budgets and reluctant buyers halt your sales momentum. Build a reputation for quality that attracts buyers, and go after deals outside your comfort zone.
Sales Mindsets Q&A: How Top Performers Think [6 Best Tips] By Marc Wayshak
Mindset is a critical differentiator in sales. After all, you need the right sales mindset to ensure that you're in the right place mentally before you can use the right sales techniques and tactics.