B2B Reads: Optimize Your LinkedIn Profile, Zoom's AI Mess, Blogging today, GTM Compensation and more!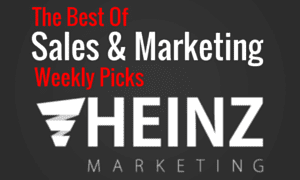 Summary
Some of our favorite B2B sales and marketing posts from around the web we found this week.
Every Saturday we summarize some of our favorite B2B sales & marketing posts from around the web each week. We'll miss a ton of great stuff, so if you found something you think is worth sharing please email me.
Optimizing your LinkedIn profile for sales By Anthony Mennie
Prospects are not only researching your company and product, but the reps they interact with. B2B sellers can make a good first impression by optimizing their LinkedIn Profile.
Zoom wants to train its AI on user calls By Faustine Ngila
In new terms and conditions, Zoom gave itself wide scope to scoop up content from the video calls of its customers.
Zoom CEO admits mistake as terms-of-service changes raise AI fears By Ina Fried
Be smart: Zoom is already using AI to power a pair of experimental features, one that summarizes meetings and another that helps draft follow-up communications.
How to Write a Blog Post That Ranks High: 13 Steps for Writing SEO Articles (plus, high-speed video) by Andy Crestodina
This article shows how to write a blog post that ranks high in a step-by-step process, useful for beginners and expert SEOs. In this example, I'm writing an article about bounce rates.
Blogging SEO: How to optimize your blog post to rank like a champion by Andy Crestodina
Search engine optimization and content marketing are one and the same. You can't do SEO without content. No content? No rankings. And blogging is the cornerstone of content marketing. That's why it's so important to know how to optimize a blog post for SEO.
The State of GTM Compensation: H2 2023 Report By Lauren Miller
If you want to attract and hire top GTM talent, you have to stay competitive. But with the tech industry constantly evolving and expanding, it can be difficult to stay ahead of the curve. The H2 2023 State of GTM Compensation report leverages real-world survey and search data made by CloserIQ to provide unparalleled insights into the hiring and compensation strategies of the fastest-growing tech startups in the US.
The Most Important Sales Skills You Must Master NOW By Marc Wayshak
By having the right skillset, salespeople can significantly increase both their sales and their take-home income. Read (and watch a video) to learn the most important sales skills you must master now.