B2B Reads: Voicemails are back? Barbie movie musings, Revamping Remote Sales and more!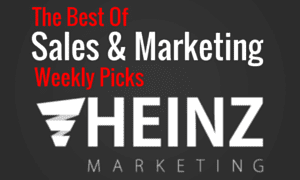 Every Saturday we summarize some of our favorite B2B sales & marketing posts from around the web each week. We'll miss a ton of great stuff, so if you found something you think is worth sharing please email me.
Let's All Start Leaving Voicemails Again! By Joanna Stern
New call-screening tools and voice memos mean it's time once again to speak up.
Improve Your Marketing Automation With These Tips By Adam Uzialko
Marketing automation software can connect your sales and marketing systems and streamline your workflows, freeing up valuable time. From beefing up your marketing plans to learning how your customers think, marketing automation – when deployed correctly – will help your business achieve its sales goals.
7 Things Entrepreneurs Should Know About Sales and Marketing Today By Jamie Johnson
Successful entrepreneurs have adjusted their marketing and sales mindset to work with this shift instead of fighting against it. If you're still struggling to understand today's digital marketing strategy shift, here are the fundamentals you need to know.
10 Tips and Strategies for Successful B2B Appointment Setting By Dan Martin
Sales appointment setting plays a crucial role in building relationships and closing deals. Sales professionals master the art of effective appointment setting, essentially achieving sales targets. In this article, explore 10 tips and strategies to excel in B2B appointment setting.
Barbie's impact and Unilever's product focus: Your Marketing Week By Russell Parsons
At the end of every week, we look at the key stories, offering our view on what they mean for you and the industry. From Mattel's brand plan to Elon Musk's Twitter rebrand, it's been a busy week. Here is Russell's take.
Smarter, faster, more innovative marketing spend By Jason Galloway
Find out how Procurement can be Marketing's best friend in our new report Smart Spending at Speed.
4 Crucial Ways to Revamp Your Remote Sales By Joel Yi
As you transition your sales force to a remote environment, remember the importance of fostering a culture of growth and learning.