B2B Reads: 9 Tips to a Good Sales Pitch, 11 Customer Engagement Strategies, 7 Overlooked Sales Qualification Tactics & More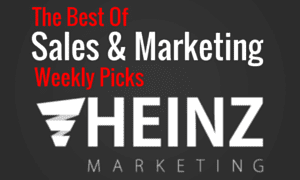 In addition to our Sunday App of the Week feature, we also summarize some of our favorite B2B sales & marketing posts from around the web each week. We'll miss a ton of great stuff, so if you found something you think is worth sharing please email me.
7 Overlooked Sales Qualification Tactics You Should Be Using, According to Experts By Flori Needle
Read to hear from experts who share their sales qualification tips you can use to nail down and close more leads.
Stop Neglecting Your Most Valuable Sales Channel [Q2 Referral Selling Insights] By Joanne Black
2023 is halfway over. Isn't it time you considered a prospecting approach that delivers double-digit results and eliminates your competition?
It's Hard to Be in Sales Right Now. These Courses Can Help By Paul Petrone
To help sales with tough questions, our friends at LinkedIn Learning have courses designed to help you shine – even when the economy isn't.
11 customer engagement strategies to help increase conversions By Cari Murray
With a strategic customer engagement plan, brands can leverage each interaction with a lead as an opportunity to meet their needs and expectations and, ultimately, increase customer conversion rates.
Stop Making Excuses and Do It by Colleen Francis
Are you making excuses? Colleen had a manager once complain to her that his sales team didn't post anything on social media to enhance their brand because they didn't know what to post. She had a quick and simple solution for them.
11 best B2B sales strategies to build a better sales pipeline and close more deals By Sales Simplify
in this blog post, read about 11 B2B sales strategies you can use to expand your sales pipeline and boost revenue. Whether you are a sales rep, a B2B business owner, or just starting in the field, these strategies will help you develop a solid foundation for your sales process and understand the psychology behind B2B selling.
3 B2B Budget Tips to Boost Your Bottom Line in a Digital Landscape By Deanna Ritchie
The digital era is transforming how B2B companies sell and market their products. Corporate leaders must embrace the trend and prioritize expenses that put the customer first. By doing so, businesses can build trust, strengthen relationships, and ultimately drive revenue growth.
How To Make a Good Sales Pitch: 9 Tips by Tiffani Bova
The sales pitch is now a fastball. To close more deals, go beyond the slow pitch and solve pain points your customers didn't even know they had. Crafting a good sales pitch is not easy — but it might be one of the most important things a sales rep can do.