B2B Reads: Learning from Mistakes, SDR to AE 90-Day Guide, and yes More on ChatGPT (Beginner's Guide, New Jobs)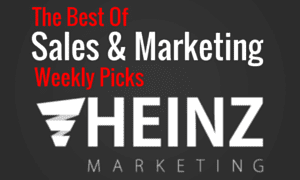 In addition to our Sunday App of the Week feature, we also summarize some of our favorite B2B sales & marketing posts from around the web each week. We'll miss a ton of great stuff, so if you found something you think is worth sharing please add it to the comments below. This week, we're focusing on a hot topic in today's business world: artificial intelligence (A.I) in sales and marketing.
Helen Reid
Read to learn how instead of cutting jobs in the wake of AI, IKEA is retraining and upskilling the staff they already have. This goes to show that AI isn't necessarily replacing humans yet but can handle more simple tasks so humans can do other things.

What you can you expect from this free guide: Step-by-step instructions to set up your ChatGPT account Understanding the benefits of a paid ChatGPT Plus account; how to enable beta features in your ChatGPT Plus account; understanding and managing your data security settings; Best practices for using ChatGPT effectively; How to write a good prompt for quality results; How to edit your prompts; How to share your chats with others; Practical insight into how ChatGPT works And much more…
Carl Franzen
What happens as AI-generated content proliferates around the internet, and AI models begin to train on it, instead of on primarily human-generated content?  As a generative AI training model is exposed to more AI-generated data, it performs worse, producing more errors, leading to model collapse.
 By
New Marketing Jobs That Could Focus on AI [Data + Examples] By Erica Santiago
It's no secret AI is rapidly changing the marketing industry. In fact, Hubspot's most recent State of AI survey found that 62% of marketing leaders and 66% of business leaders have already hired new employees to help leverage AI/automation tools.  But what roles are marketing and business leaders hiring for exactly? Read on to find out.
Overcoming the Dreaded "Let Me Think About It" Objection By Colleen Francis
5 Action Points to overcome this frustration objection.  There's plenty you can do—and must do—to fully deploy the five action points so you can close more sales in less time and get the winning results you deserve.
SDR to AE: The 90-Day Guide I Wish I'd Had on Day 1 by Varenya Penna
Account executive Varenya Penna uses wins and learnings from her BDR-to-AE journey to create the 90-day SDR-to-AE guide she wishes she'd had. Starting your journey from SDR to AE? Bookmark this guide.
What Can You Learn From Mistakes? By Juliane Waack
Everyone makes mistakes, everyone has a tale to tell about a horrendous project or a complete disaster – but failures are nothing to be ashamed of. In fact, from F***Up-Nights to Ted Talks, the business world has realized that a failure can be a great way to grow and learn.