B2B Reads: 8 High Impact B2B AI Use Cases, 10 Best ABM & ABX Practices for SME's, Easily Find Email Addresses and More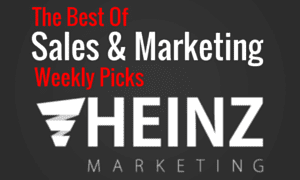 Summary
Some of our favorite B2B sales & marketing posts from around the web this week.
In addition to our Sunday App of the Week feature, we also summarize some of our favorite B2B sales & marketing posts from around the web each week. We'll miss a ton of great stuff, so if you found something you think is worth sharing please let us know.
Step up Your Game: Finding Corporate Email Addresses Made Easy By Premanand Arumugam
Explore what corporate email addresses are, why they're super important for businesses, the old-school ways of finding corporate email addresses for decision makers, the challenges involved in finding them, and how tools can make the process quick and efficient.
Providing the Best B2B Customer Support – What happens after you've closed the deal? By Marissa Taffer
This article will shine a spotlight on the nuances of B2B customer service best practices so your team can provide the best customer support possible. We'll look at the importance of excellent customer service and the challenges of providing it, and then give you a blueprint to help you delight and deliver.
Generative AI in Marketing and Sales: 8 High-Impact B2B Use Cases By Chitra Iyer
Discover how generative AI in marketing and sales is reshaping business. Learn from experts about its impact on revenue, partnerships and task augmentation. The Gist: Not just efficiency. Not just internal. Not just automation.
B2B Marketing: SMEs must adopt these 10 best practices for ABM and ABX By  M MUNEER
Account-Based Marketing and Account-Based Experience are dynamic strategies that have proven to be highly effective in B2B marketing and sales. But the adoption of these strategies has been slow. SMEs can change this by following some of the steps outlined herein.
A sales-side view of marketing, automation and AI By Constantine von Hoffman
The head of sales for Babbel gives an inside look at working with marketing, putting together a campaign and more.
How embedding BDRs into marketing can boost your sales By Margaret Lee
Learn how leveraging Business Development Representative expertise in marketing can lead to smoother customer journeys, comprehensive sales funnels and increased revenue.
How to Rev Up the B2B Account-Based Demand Engine to Accelerate Results By Phil Jones
Through six questions and answers, this article discusses the aligning of sales and marketing teams and adopting a unified approach so businesses can thrive in the evolving B2B landscape.