B2B Reads: ChatGPT Trust, What is TAM?, Emotionally Intelligent Apologies, Great Questions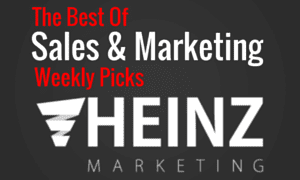 In addition to our Sunday App of the Week feature, we also summarize some of our favorite B2B sales & marketing posts from around the web each week. We'll miss a ton of great stuff, so if you found something you think is worth sharing please add it to the comments below.
Attention, trust and GPT3  By Seth Godin
But mostly it reminds us that attention and trust don't scale. If your work isn't more useful or insightful or urgent than GPT can create in 12 seconds, don't interrupt people with it.  Technology begins by making old work easier, but then it requires that new work be better.
How to Win New Clients from Lost Deals By Joanne Black
Sometimes you win deals and sometimes you lose them, even when you've invested everything you have into closing them. But for every lost deal, there are two possible silver linings.  Read on to learn what they are.
Total Addressable Market (TAM): What It Is & How You Can Calculate It By Clifford Chi
Whether you want to start a new company and gauge its industry's profit potential or forecast a realistic revenue growth goal for your business, measuring your total addressable market is a crucial first step you must take. To help you do this, we've put together a guide that'll teach you exactly what total addressable market is and the best way to calculate it.
Developing Emotional Intelligence As A Leader By David Burkus
Read about ways of developing emotional intelligence as a leader based on the four elements in Daniel Goleman's original research: Self-Awareness, Self-Regulation, Empathy, and Social Skills.
LinkedIn Shares New Data on Engagement and Ad Performance [Infographic] By Andrew Hutchinson
Andrew shares some key notes on a new infographic LinkedIn has shared a range of data points on ad performance, usage, and specific engagement stats.
Why a Google Analytics 4 transition should be your top New Year's resolution By Nicole Penn
Adapting to GA4 requires tremendous effort and ability to understand the changes. Clients must be fully briefed on the reasons for this change, how to read new metrics, and, ultimately, how they will benefit in the long run.
The emotionally intelligent way to apologize for a mistake at work By Niki Jorgensen
To apologize effectively at work, it's important to know how to word an apology and how to choose the right time.
Energize or Enervate: Recognition Practices That Turn People Off or On By Jim Clemmer
Recognition, celebration, and appreciation are powerful and renewable energy sources. It starts with valuing people. The next step is how you express that appreciation.  Read for GREAT Recognition Do's and Don'ts.
How to Ask Question That Wake-Up People By Dan Rockwell
Make the first question easy to answer and use it as a platform for the next.  When someone answers a question, ask a question about their answer.  A second question is a pick and shovel.  Read more for great examples and how to put great questions into action.