B2B Reads: Customer-Centric Decisions, Improving Analytics, and Cultures of Belonging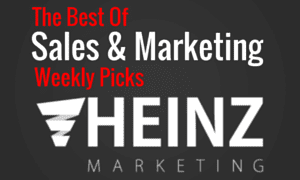 In addition to our Sunday App of the Week feature, we also summarize some of our favorite B2B sales & marketing posts from around the web each week. We'll miss a ton of great stuff, so if you found something you think is worth sharing please add it to the comments below.
What's The Best Way To Connect With Your Audience Remotely?
In this blog post, Dr. Jim Anderson offers practical advice and general guidelines for those trying to deliver any sort of online speech. While become skilled at public speaking in-person is an entire field of its own, transferring these events online poses a new host of challenges. Anderson focuses on learning how to use your voice, taking the time learn necessary tools, attempting to eliminate distractions, and not being afraid to stand and deliver your speech.
How To Organically Grow Your Company's Social Media Presence
In this article, Noah Rue outlines some avenues to "foster organic growth" across various social medias. Rue writes that determining your target demographic, sticking to solid posting practices, and fostering engagement are the main points of focus in level-up a company's social media presence.
Ultimate Resource for Sales Motivation
Matt Sunshine in this guide provides easy-to-implement tips and strategies for sales managers to further connect and empower their teams. He writes: "By motivating each member of your team, you can build a stronger, more resilient team that can support your company's success." His tips include promoting autonomy, focusing on key activities, and offering meaningful criticism.
Coworker connections in the virtual workplace
In this blog post, Chris Williams uses a data-centric approach to offer ideas and strategies for increasing coworker connections in a WFH environment. He offers the advice of declaring your intentions, leaning towards inclusion, and listening as an ally as some of the best ways to foster a mutually respectful and productive WFH experience.
4 Things You Can Automate in Your Email Marketing That Will Save You Time and Drive Sales
Liviu Tanase in this article provides four specific strategies for increases in email engagement and automation. He notes: "You don't have to do everything yourself when technology can help you drive results. Email marketing automation does the work for you and not only saves you time but also helps drive sales."
Love Your "Flaws"
In this blog post, Mike Robbins offers some insightful takes and vision into reframing how we view our own "flaws." He states: "I've resisted this notion of loving my flaws for most of my life, worrying that if I loved the things I thought were wrong with me, they'd somehow never change, and I'd be stuck with them. However, it is really love that leads to healing and transformation – which ultimately can create the actual change we say we're looking for, or a true sense of acceptance that gives us access to authentic freedom and liberation, regardless of circumstances."
How Well Does Your Company Use Analytics?
In this piece for the Harvard Business Review, Preethika Sainam, Seigyoung Auh, Richard Ettenson, and Yeon Sung Jung take a deep-dive into the utilization of data and analytics at an executive level. They note that "a large majority of senior leaders don't feel like their organizations are hitting the mark" when it comes to analytics. The authors identify seven dimensions that help enable better analytics: "culture, leadership commitment, operations and structure, skills and competencies, strategy and analytics alignment, proactive market orientation, and employee empowerment."
What Drives a Culture of Belonging?
Louis Efron in this article gets at the core of what drives a culture of belonging at any organization. What emerged through research is that "culturally competent managers are key to ensuring a culture of belonging" and that "when employees feel their opinions count, this positively impacts performance."
The Difficult and the Daunting
In this blog post, Ken Goldstein offers a relevant reminder that predicting future business accurately is extremely difficult, in both "an up-market and a down one." He cautions: "The decisions we make have an impact we might be able to see today, but unless you know someone who has a gift the world has never seen, we are almost always speculating on the impact a year or more from today. Sometimes it's decades before we find out if we were right or wrong."
How to make customer-centric decisions
Bella Rushi in this post provides a framework for shaping a business model to be customer-centric. This includes understanding what's driving the consumer choices, evaluating environments to seek new market opportunities, and using innovation sprints to select, test, and implement ideas.