B2B Reads: Leader Communication, Sales Leadership, & Improving Relationships To Increase Revenue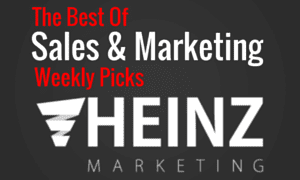 In addition to our Sunday App of the Week feature, we also summarize some of our favorite B2B sales & marketing posts from around the web each week. We'll miss a ton of great stuff, so if you found something you think is worth sharing please add it to the comments below.
Email Marketing Is Changing
Marketplace and industry factors are forcing marketers to adopt new metrics for measuring email engagement, and they're taking a close look at the value (and content) they're providing to customers and prospects while they're at it. Thank you Marie Griffin, for the great read.
5 Proven Approaches To Leader Communications In The New Reality
When the pandemic hit, leadership teams figured out really quickly that effective communication was essential to business continuity and helping employees through the transition to the new reality. Thank you for the great read, David Grossman.
Making The Business Case For You Marketing Budget
Chief marketing officers are reporting increased pressure to prove the impact of marketing spending. But too often this means a focus on short-term metrics, like sales revenue, instead of longer-term efforts like brand building. Thank you, Christine Moorman and Jennifer Veenstra, for the great read.
The Future of Sales Leadership
Well before the onset of COVID-19, there were signs that the profiles and characteristics of world-class sales leaders were changing. Since the pandemic, we have seen these changes accelerating and new dimensions in sales leadership coming to the fore. Thank you for the great read, Sigrid Artho, Philiep Dedrijvere, Massimo Di Dia, Jonathan Harper, Chris Lakens, Tatiana Oszmianska and Tanja Svjetlanovic.
What Readability Level Makes Sense For Your Audience?
When talking about the importance of making copy easy to read and understand, there's always one person who can't believe the advice applies to them. Thank you for the great read, Ann Wylie.
New LinkedIn Data Shows How Gen Z Is Recalibrating The Norms Of Work
As it's members begin entering the workforce, gen Z is now the fastest-growing demographic on LinkedIn. But members of this generational cohort are not using LinkedIn in the same ways as their predecessors, as their values, priorities and views regarding work and professionalism are uniquely theirs. Thank you for the great read, Kendra Clark.
What My Time In Theatre Taught Me About Corporate Communication
Theater can teach you a lot about how to communicate and engage with other people using your voice, your words, your body language, your tone. Actors must be masters of both text and subtext if they want their performances to be engaging and authentic. Thank you for the great read, Monique Maley.
4 Ways To Maximize The Impact Of Last Impression Leadership
Effective leaders know the importance of making a good first impression. But sometimes overlooked is the power of making a good last impression. Thank you,Scott Cochrane, for the great read.
5 Strategies To Improve Employee Retention
If you're struggling to improve employee retention here are five strategies that will help you succeed in today's war for top talent. Thank you for the great read, Caroline Castrillon.
10 Tips for Increasing Revenue By Improving Relationships With Employees And Customers
Your relationships with employees and customers can make a major impact on revenue. Productive employees bring in more customers. And loyal, engaged customers spend more money. Thank you for the great read, Annie Pilon.