B2B Reads: Recruitment, Retention & Empathic Leadership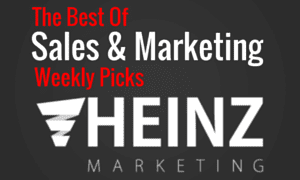 In addition to our Sunday App of the Week feature, we also summarize some of our favorite B2B sales & marketing posts from around the web each week. We'll miss a ton of great stuff, so if you found something you think is worth sharing please add it to the comments below.
3 HR strategies for 2022 to help you grow talent
Many companies are restructuring their strategies for recruitment and retention. In the past, these businesses focused on highlighting their new office buildings or location to attract talent, however now they are beginning to show their values not just through words, but actions as well. These HR approaches include the customization of their work-from-home policy, building a team that reflects community and opportunities, and differentiating their employee's experiences. Thank you, Sylvia Krzmarzick, for sharing these new strategies. 
You Are A Powerful Speaker: Now Show It
Everyone has the ability to be a powerful speaker, however it comes down to how they communicate their ideas if this can be presented effectively. Practices like embracing ideas, voicing power, taking the time, phrasing sentences as statements instead of questions, pausing, practicing with feedback, and being one's self can help assist speakers in showcasing the impact of their ideas via presentation. Thank you, Drjim, for this inspiring read. 
Empathy in Action: A Thoughtful Look at the Empathetic Leader
There is power in empathy. Empathetic leadership should not be used in isolation and often thrives under balance while surrounded by other individuals. This article discusses how essential empathy is for great leadership, relationships, conversations, forthrightness, clarity through misread situations, kindness, and breaking things down into discrete situations. Thank you, Scott Blanchard, for your insights on empathy. 
Leading with Purpose: Recruit and Retain Your Leaders of Tomorrow
The way of work has experienced many unprecedented changes as a result of the COVID-19 pandemic and employees are leaving their companies at a record rate. Recruiting and retaining workers has become increasingly difficult, but critical insights have identified that young professionals are searching for value in their place of work through leading with purpose. Thank you, Stephanie Wormington and Sarah Pearsall, for your research and ideas. 
Understanding and Building Sales Impact Models
An impact model is a set of assumptions about how buying a specific product or service will financially benefit the buyer based on their specific business factors and how these solutions can improve them. It's important to build and fully comprehend sales impact models for your company to determine the impact and value you're providing to the consumer. To begin, building these models goes through the process of mapping out ideas, asking specific questions, collaborating with the buyer, collaborating the visual impact, and developing a case. Thank you, Erica Schultz, for highlighting this sales technique. 
What Does The Customer Need To Move Forward?
One major flaw regarding the mindset of many sellers throughout the customer's buying journey is the emphasis on what information the seller needs to move forward in the process. To more effectively close the deal, salespeople must focus on what the customer needs to move forward in order to make the final sale. This approach shifts how sellers communicate and work with customers but is more efficient and has a higher probability of success as it's solution-focused. Thank you, David Brock, for this interesting perspective. 
How to align B2B sales and marketing teams
Traditionally, marketing teams have been accountable for leads while sales teams focus on the responsibility for revenue, however overtime these two funnels have become more complex. This has caused blurred lines between the teams and this misalignment can cost B2B companies trillions of dollars. To help address this issue, it's important for marketing and sales teams to create shared goals, collaborate on strategy and planning, and implement tools to bridge the gaps amongst these two teams. Thank you, Corey Patterson, for sharing your thoughts on this topic. 
How to Assess Your Sales Pipeline to Qualify and Close More Deals
Every organization's sales pipeline is different from one another, but generally there are eight stages within the six step sales funnel to showcase the customer journey experience. This article breaks down each stage, the common challenges faced within it, and the best practices to overcome these difficulties. It's important for salespeople to evaluate their sales pipeline performance at least once a year to track their progress, mistakes, set goals, and improve their strategies. Thank you, Peter Flynn, for breaking down the steps of this process. 
We're not getting back to normal. Ever. Here are 3 strategies to manage now
In addition to positional difficulties of the pandemic, marketers experience the given pressure of growth and performance to live up to in their everyday careers. Over 70% of marketing leaders have reported their teams feeling exhausted which can ultimately lead to burnout. Strategies to manage these challenges include getting to truly know people again, cutting out what doesn't matter, and rallying for a higher calling. Thank you, Jeannine Falcone, for shining a light on this important topic. 
Marketing Has Lost The Thread. Here's How We Get It Back.
With the constant changes of various factors leading to each company's success, many have found that marketing is difficult and great marketing is even harder. Strong branding is crucial and without this awareness, many businesses will become unrecognizable in the foreseeable future. While there has been much change in this industry, the way our brains work along with why people buy have remained the same and focusing on the fundamentals of these marketing tactics will help save these brands' images. Thank you, Seth Matlins, for this insightful read.