B2B Reads: Sales Tips, Moving On From Cookies, & Leader Validation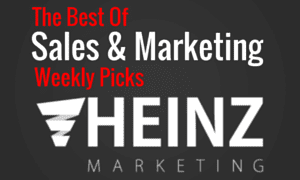 In addition to our Sunday App of the Week feature, we also summarize some of our favorite B2B sales & marketing posts from around the web each week. We'll miss a ton of great stuff, so if you found something you think is worth sharing please add it to the comments below.
Your Buyer Is Asking Themselves These 3 Questions – Sales Strategies
Here are three important questions that buyers are asking themselves right now. Knowing hot to deal with these three questions will help you attract and retain more customers. Thank you for the great read, Colleen Francis.
Improving Strategic Outcomes With Advanced Analytics
Learn how digital analytics is revolutionizing strategy. Thank you for the great read, Sasha Vesuvala and Sean Brown.
An Impromptu Speaking Exercise to Boost Your Skillset
Impromptu speaking can strike fear in new and seasoned speakers alike. But like most things, impromptu speaking isn't actually so scary when you know what it is and you practice it. Thank you for the great read, Amy Boone.
66 Sales Tips to Boost Your Success in 2022
As you start to think about your sales goals for 2022, use these 66 tips as a roadmap to your success. Thank you for the great read, Erica Schultz.
How to Best Connect On A Human Level: Are Emotions The New B2B Marketing Tool?
It has become more and more common for B2B buyers to use websites, email, and online resources to stay informed about products, make inquiries, and purchase orders. As a result, human-to-human contact has become a rare — and, therefore, all the more vital — aspect of a buyer's journey. Thank you for the great read, Yogesh Shah.
Extended Deadlines Or Not, It's Time To Move On From Cookies
The digital advertising ecosystem grew up on the shoulders of third-party cookies. But the hard truth is that the cookie has been broken since day one and isn't built for the tasks we ask of it now. Thank you for the great read, Kevin Whitcher.
5 Strategies From A Psychiatrist For Dealing With Difficult People
It's no secret that one of the most cited reasons for disliking a job is the people we work with. But instead of leaving one job just to encounter the same type of people at the next one, your efforts could be better spent learning how to get through to anybody. Thank you for the great read, Mark Goulston.
Overcoming Imposter Syndrome
Imposter syndrome is not uncommon in the workplace. It happens to everyone, though it may manifest differently. Even well accomplished  leaders may feel like they're peers will eventually find out that they really don't know what they're doing. That they've been feeling their way along for most of their career. Thank you, Alaina Love, for the great read.
Mastering The Connection Between Strategy and Culture
Business leaders often are tempted to focus on strategy over culture. But the strongest companies take four key actions that deliver the best of both. Thank you for the great read, David Lancefield.
Reasons Why Leaders Want Validations Vs. Honest Feedback
If leaders wanted validation why didn't they just ask for it instead of snapping back at the feedback you gave? Here's why some leaders resist honest feedback. Thank you for the great read, Kate Nasser.