B2B Reads: Set up Google Analytics, SEO Guide to ChatGPT Prompts, Warm Call Fantasies and more.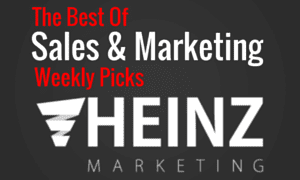 In addition to our Sunday App of the Week feature, we also summarize some of our favorite B2B sales & marketing posts from around the web each week. We'll miss a ton of great stuff, so if you found something you think is worth sharing please add it to the comments below.
5 ways B2B companies can get out of a marketing comfort zone By Samantha Owens Pyle
An article with ideas that have helped our B2B clients expand their thinking and find new ways to enhance their marketing strategies.
Misinformation, Antitrust and Copyright Loom as Regulatory Hurdles For AI and ChatGPT By Trishla Ostwal
With generative artificial intelligence tools upending the media and marketing industry, Adweek reporters felt it prudent to ask one of them, ChatGPT, whether it was compliant with GDPR, the 5-year-old data protection and privacy law in the European Union. Read on to learn more.
Don't panic: It's time for big creative ideas by Marla Kaplowitz
Brands should not forgo big, creative ideas in light of a potential economic downturn.
7 Steps to Setting Up Google Analytics For Your Business By Sean Boyle
In today's day and age, tracking data with Google Analytics is an absolute must. Make sure you sync up this year to avoid getting left behind by your competition.
You're Living in a Warm Call Fantasy By Joanne Black
Wake up from the warm call fantasy. There's a proven approach to building sales doing what salespeople do every day—talking to customers, colleagues, and friends. Salespeople already have a built-in referral network. By tapping into those networks for referrals, they'll fill their pipelines with piping hot leads—the only kind that count.
An SEO's guide to ChatGPT prompts By Tom Demers
Here's what to keep in mind when creating prompts, plus examples of SEO-focused ChatGPT prompts to use in your day-to-day work.
Are PQLs the New MQLs in Sales? Here's What You Need to Know By Althea Storm
In this article, Althea wil explore what a PQL is, the difference between PQLs and SQLs, how to make PQLs work for you, and so much more.
7 Marketing Objective Examples (+ How to Set Yours Right) Michal Pecánek
In this article, Michal dives into examples of great marketing objectives, including ways to measure them. It's then followed by the best practices you should apply to either adjust those examples according to your needs or come up with your own marketing objectives from scratch.