B2B Reads: The Upper Hand, Your Best Self, & Customer-Centric Marketing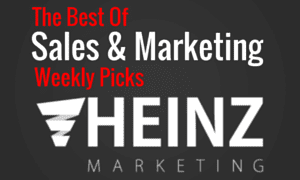 In addition to our Sunday App of the Week feature, we also summarize some of our favorite B2B sales & marketing posts from around the web each week. We'll miss a ton of great stuff, so if you found something you think is worth sharing please add it to the comments below.
Think Vision
The difference between meaningless and meaningful, and valuable for you and others, is vision. If you have no vision for your business, then you have no real purpose. Thank you for the great read, John Spence and Dr. Oleg Konovalov.
Express Your Best Self: Go For Connection, Not Perfection
Take a closer look at the finer points of connecting with an audience in a way that is uniquely your own, to make your message more personal and resonant with your listeners. Thank you for the great read, Stephanie Scotti.
A Few Questions Abouts Questions
Think of a question as a truth-seeking missile, that's how a sales strategy that's built on questioning is so powerful. The best way we can create value for our customers, our companies, and ourselves is to get to the truth. Thank you, Paul Cherry, for the great read.
The Upper Hand
Think you've got leverage? You might. Now think hard about whether you want to exert it. The success of a business reveals itself over long periods of time. The same is true of a career. Thank you for the great read, Ken Goldstein.
3 Ways AI Will Change Marketing Forever
AI-powered automation doesn't just make a firm's marketing department faster, it becomes smarter by leveraging data far more efficiently than through manual methods. Thank you for the great read, Courtney Behrens.
10 Ways To Adapts & Thrive In Today's B2B Marketing World
Today's B2B buyers are doing everything remotely and digitally, from where they work and what they're reading to how they're making purchase decisions. They don't care about where they are in your sales- and marketing-defined buyer's journey map; they want specific information that informs their buying decisions and provides an easy path to purchase. Thank you for the great read, Deb Wolf.
Discovering The Lost Art Of Communication
If communication is so important, and we are more interconnected than ever before, then why are most managers and leaders so bad at it? Thank you for the great read, Matthew Moseley.
6 Ways To Improve Your Sales Outreach Strategy
Sales outreach has come a long way from pure cold calling. And as the field continues developing, you need to keep up with it. With the help of modern technology and new tactics, you can improve your sales outreach strategy and make it more effective. Thank you for the great read, Amanda Meade.
2 Things About Managing Through Change
Change is a concept that we in organizations live through every day, especially these past months of the pandemic. However, research has suggested there is another side of change that is given less attention — how managers and organizational members interpret the changes as they unfold. Thank you, Lynn A. Isabella, for the great read.
How To Be A Better Customer-Centric Marketer
Anyone can learn to be a better customer-centric marketer, whether you're starting from zero or already devoted to this approach. A powerful strategic framework that puts the customer at the center of your marketing initiatives is known as the "who what how" method. Here's a quick breakdown. Thank you for the great read, Nancie McDonnell Ruder.