B2B Reads: Time-saving Strategies, Crisis Communication & Organizational Purpose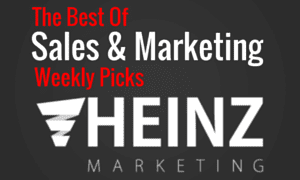 In addition to our Sunday App of the Week feature, we also summarize some of our favorite B2B sales & marketing posts from around the web each week. We'll miss a ton of great stuff, so if you found something you think is worth sharing please add it to the comments below.
19 Time-Saving Strategies and Tools for Sales Teams
As sales opens opportunities and develops revenue, it's a key aspect to success for businesses. It's important to understand what factors affect your sales productivity, which strategies work, and tools to consider. Thank you, Amanda Meade, for discussing these time saving strategies and tools for sales. 
The Positives—and Perils—of Storytelling
While storytelling is often a technique utilized to enhance and humanize information, Jonathan Gottschall is a distinguished fellow at Washington & Jefferson College, who has researched storytelling and addresses his understanding of its popularity while also explaining its ability to manipulate and destroy society in this podcast episode. Thank you, Jonathan Gottschall, for presenting your research. 
When Building Rapport, Less Can Be More
Building relationships with our colleagues can be a challenge, however it seems we have made it out to be more complicated than necessary. When developing rapport with your peers, be sure to simplify your intentions and avoid overthinking. Thank you, Adi Gaskell, for sharing your findings of this study on rapport. 
Is Crisis Communications the New Normal?
The impact of COVID-19 has changed many aspects of the business world, but one that is often overlooked is the value of clear and effective communication. Thank you, Kate Huskin, for making us aware of this information. 
When Subtraction Adds Value
When changes occur, the additive improvements often receive more attention than subtractive elements and people can forget that simplifying or taking away is an option that has much value as well. Thank you, Gabrielle Adams, Benjamin A. Converse, Andrew Hales, and Leidy Klotz, for your ideas. 
How To Communicate On Social Media For Business And Marketing
It can be difficult to understand how to effectively communicate verbally and nonverbally across various platforms, but corporate communication should be purpose driven and goal oriented regardless of the communication method. Thank you, Michael Thiemann, for this great read. 
Going Beyond Cold Calling: 5 Sales Skills Worth Developing
While prospecting receives much attention in sales, it's important to consider and understand other areas of sales like value creation, the paradigm shift, discovery, commitment gaining, presentations, and proposals. Thank you, Anthony Iannarino, for your insights. 
How B2B Marketers Can Define, Communicate And Activate Organizational Purpose
A company's purpose is imperative for it's brand, but also throughout their business internally and putting it into practice will solidify its success through having it clearly defined, implementing it into various aspects of the company, and making it tactful. Thank you, Mike Neumeier, for this perspective. 
The New Benefits Employers Could Offer to Make You Stay
The global pandemic has caused many workers to rethink their careers and show that they aren't afraid to quit their jobs so it's important for employers to evaluate their current leadership styles and prepare to offer new benefits as incentive for employees to stay. Thank you, Benoit Morenne, for these helpful tips. 
The Ultimate Guide to Competitive Research for Small Businesses
With the advancement of technology, consumers have access to more resources and have more options when it comes selecting their products and services. It's crucial for the sustainability of your company to conduct competitive research to understand your market, improve marketing processes, discover market gaps, evaluate your competition, and identify areas of improvement for your business as a result. Thank you, Jimmy Newson, for highlighting this important information.