B2B Reads: Authentic Leaders, Optimal Customer Journey, Selling Mistakes to Avoid and more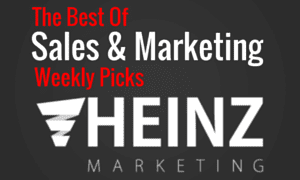 In addition to our Sunday App of the Week feature, we also summarize some of our favorite B2B sales & marketing posts from around the web each week. We'll miss a ton of great stuff, so if you found something you think is worth sharing please add it to the comments below.
Chaos Pilots – All Organizations Need One By Jennifer Jackenthal
Chaos Pilots can lead transformative change, skillfully execute in unfamiliar territory and are comfortable with uncertainty. They have a fast mind and plenty of grit. No organization is complete without one.
The 4 Biggest Challenges of Breaking Down Data Silos By Juliane Waack
Digitization is all about connection. What cannot be connected creates a roadblock on the way to digital transformation. For companies that are on their way or plan to get going, it's becoming increasingly apparent that data silos are the biggest roadblocks to overcome.
8 Social Selling Mistakes Your Team Should Avoid By Tristen Taylor
Social media strategy isn't easy to implement if you aren't already familiar with the ins and outs of social media networking. In this article learn the biggest social selling mistakes your team should avoid so you can get more out of your profile.
Sales Relationships – How to Build Strong Bonds With Your Customers ByJ.C. McKissen
It's harder than ever for sellers to break through the noise and create genuine relationships. Learn how to break through with these this 3-step strategy to connect with buyers.
TikTok for B2B companies: How to Do it Right By Chantelle Riley
TikTok's meteoric rise as a social network is matched by its reputation as a B2C marketing channel. But B2B companies are making big things happen on the platform, too, says Vertical Leap's Chantelle Riley.
4 Stress-Relieving Activities to Improve Sales Team Morale By Steven Briggs
Learn the power of stress-relieving activities and how they can improve morale and increase productivity. Implementing these will help you create a productive and encouraging atmosphere at work, which will benefit both your sales team's well-being and your company's bottom line.
Effective Leaders Are Authentic Leaders By John Rex
Senior leaders must do more than be able to recite the values and guiding principles of your organization. You must lead with authenticity, transparency, and integrity—in addition to knowing your values, you must be willing to live them out.
What Is the Optimal Pattern of a Customer Journey? by Julian De Freitas
This article covers research and data on which patterns are most effective, and where CX managers should be investing their limited resources for the best possible customer experience outcomes.