B2B Reads: Innovation, Powerful Sales Questions, & Content Marketing Trends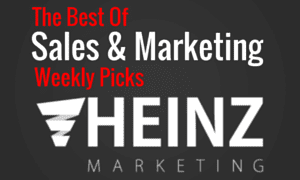 In addition to our Sunday App of the Week feature, we also summarize some of our favorite B2B sales & marketing posts from around the web each week. We'll miss a ton of great stuff, so if you found something you think is worth sharing please add it to the comments below.
6 Reasons Your Marketing Copy Isn't Converting — and How to Fix Each One
One of the most frustrating things when you're running a business is not getting the conversions you want. It's easy to blame design, authenticity or even load time. And while all these could influence conversions, chances are, the real culprit is your copy. Thank you, Svetoslav Dimitrov, for your insight on common mistakes with marketing copy.
Invention, Innovation, Improvement
The three "I's" are critical to success and growth. What do they mean to sales and marketing? Why are they important to revenue generation functions, what should we be doing about them? Thank you, David Brock, for shedding light on the importance of invention, innovation, and improvement.
14 Ways Businesses Can Leverage Chatbots To Facilitate Conversions
Online consumers are growing more and more accustomed to encountering chatbots on business websites and interacting with them to find answers and communicate with companies. Given their widespread adoption and ability to influence sales, leaders of companies with e-commerce elements or online buying options that don't already have one are likely considering implementing chatbots. Thank you, Expert Panel of Forbes Councils Members, for your insight into how chatbots can facilitate conversions.
Marketing automation to close in on $4.7B globally by 2028
Marketing automation tools are being embraced by brands to help them deliver the customized and seamless experiences expected by their target audiences. A report reveals that email marketing automation will take the largest slice of market share at just over 32%. So what is driving this growth? Thank you, for providing insight on several factors contributing to the automation boom, Jo Hamilton.
50 Powerful Sales Questions
Great sales questions help you find out what's going on in your buyer's world. They help you connect with buyers, understand their needs, understand what's important to them, and help them create better futures for themselves. Great sales questions help you win sales. Thank you, Mike Schultz, for sharing these amazing questions to help sales teams better build rapport, navigate buyer wants, needs, and desires, and close more sales.
Why This Leader Is Totally Cool With His Top Players Moving On
One of the biggest fears of executives and business owners is the possibility that their top employees will leave for jobs at other organizations. But rather than be fearful or vindictive when trying to prevent executive departures, there may be a more broadminded approach. Thank you, Dr. David Lenihan for providing your knowledge and experience with tactics that have been successful in attracting/keeping executive talent.
What's Needed Most From Managers Now
As organizations shift from command-and-control leadership to more decentralized decision-making, the "frozen middle" is melting. Companies are pushing more decision-making to their frontline managers, who in turn have to step up and make some tougher judgment calls. Adam Bryant, provides some great insight on these new expectations on frontline managers.
The Future Of B2B Marketing: Get Ready For 2025
The pandemic was a big game changer to how companies conducted business. Even many companies who already used automation for high-ticket B2B marketing businesses struggled to adapt; few were truly ready for the magnitude of the shift to digital. As we look to the future we can still see the influence of the pandemic. Thank you, Loredana Niculae, for guiding us through emerging B2B priorities and strategies so we can be better prepared.
4 WAYS TO LEAD WITH COURAGE TODAY
Winston Churchill said, "Courage is rightly esteemed the first of human qualities, because, as has been said, it is the quality which guarantees all others." Skills are a car without gas. Like a car without gas, skills cannot go anywhere without courage. Thank you, Dan Rockwell, for your four ways to lead with courage.
Three Content Marketing Trends For Marketers To Watch
Content marketing is an essential tool for marketers to engage with consumers throughout the buying journey and to build brand awareness. Some 82% of marketers actively use content marketing, per HubSpot, but what trends should they be watching out for this year? Thank you, Jo Hamilton, for your insight on what marketers should know about upcoming trends.