B2B Reads: More Communication, Personalized Messaging & Conversational Marketing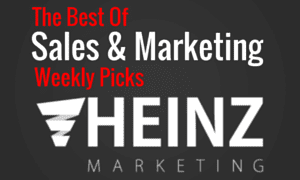 In addition to our Sunday App of the Week feature, we also summarize some of our favorite B2B sales & marketing posts from around the web each week. We'll miss a ton of great stuff, so if you found something you think is worth sharing please add it to the comments below.
Leaders: This is exactly what 'more communication' should look like
People often discuss having more communication in the workplace, but many don't actually know what this looks like or how it can be applied. It starts with more overall transparency then leads into the three keys of good internal communication including asynchronous, scheduled, and multimodal communications. Thank you, Dustin York, for elaborating in detail on this widely discussed topic. 
What the World of Hybrid Work Will Look Like in the Future
The pandemic has impacted our lives in a myriad of ways, especially how we work moving forward. While companies are excited to transition back in-person, their employees are embracing the current hybrid model and hope it remains for the future. This will affect corporate office leasing, models, and culture overtime. Thank you, Chris Porteous, for discussing these ideas. 
Why Should We Expect Our Customers To Change?
A very commonly used sales tactic is to drive customers to adapt and change to fit the target of the product or service being sold. However, this strategy is now being questioned as salespeople expect their consumers to change but don't reflect this within themselves and now this idea is being challenged by looking internally, changing actions, how to work together, and how to create meaning and value within these organizations to then transition in changing the customer. Thank you, David Brock, for this insightful analysis. 
The 5 Types of Content to Include in Your Personalization Strategy
Personalized messaging is an important part of business's marketing strategies as they help set each company apart from their competition while increasing engagement, recognition, and sales. Five types of helpful content to include in these personalization strategies follow recommender, teaching, support, confidence-building, and reward content. Thank you, Mia Mcpherson, for sharing these helpful strategies. 
How B2B Brands Can Use Purpose to Win in the Marketplace
In the last few years, the realization of purpose over profits has been crucial in the success of many companies. While business-to-consumer brands have been using this strategy to their benefit, business-to-business brands have not been gaining as much attention for their purpose until recently. Factors that are predicted to have driven this sudden shift include the reaction to the pandemic, trust in brands over government, and less purpose washing. Thank you, Chip Walker, for sharing this information.  
How to build harmony, rather than discord, in your workplace
Collaboration is becoming increasingly difficult with the rise of polarization in the workplace. Division can stir with conflicting opinions or personal and professional matters, but it's important to foster connections for effective collaboration. Steps to build harmony in these spaces include allowing room for disagreement, focusing on team advancement, and making time for connection. Thank you, Adam Kahane, for writing about these important steps. 
You Have to Fail If You Want to Succeed
Taking risks and failing has an incredibly negative connotation, however it's important to grow and learn from these setbacks as an entrepreneur, as well as in the general business world. Additional insights regarding failure include viewing it as something that happens and not anyone's fault, understanding failure is not the enemy, learning strength from each failure, knowing it's not a stop sign, and seeing failure as better than regret. Thank you, Krista Mashore, for sharing these learnings from your personal experiences. 
Why conversational marketing works
Many companies are shifting their marketing efforts to a more conversational approach through the advancement of social media. Building conversation with consumers on these platforms has become a direct way to connect and advertise their brand image while selling consumers on the products or services associated with each company on the customer journey in a digital format. Thank you, Ambreen Ali, for shining light to this new idea. 
Harnessing Critical Mass Influence
Earning influence in the marketplace today greatly differs from past efforts and it's important to effectively harness critical mass influence to yield higher success for your company. Actionable steps to take advantage of this tactic include talking to strangers, utilizing everywhere you go as a profit center, getting on the inside track, and going places where you are known. Thank you, Colleen Francis, for a great read. 
Silos That Work: How the Pandemic Changed the Way We Collaborate
With time and practice, employees have found an effective way to handle remote working which has greatly impressed their companies and even encouraged some to continue remote work post-pandemic. Emails and virtual meetings have become the new normal which some prefer while others question the productivity of siloing. Thank you, Jay Fitzgerald, for your ideas and research.