B2B Reads: Past Year Reflection, Culture of Innovation, & Emerging Trends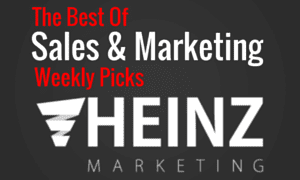 In addition to our Sunday App of the Week feature, we also summarize some of our favorite B2B sales & marketing posts from around the web each week. We'll miss a ton of great stuff, so if you found something you think is worth sharing please add it to the comments below.
Reflecting Back on the Year Ahead – 11 Ways to Make Your Reflection Session Pay Off
With the start of the new year, extracting the lessons-learned from the past year can be a great path to continued growth. Here are some ideas for how to go about reflecting on the year gone by so that the year ahead is as good as we can make it. Thank you, Ken Downer, for the great read.
Effective Leaders Move Beyond Empathy to Compassion
For the past two years, leaders have been shouldering a big emotional burden. The empathy this requires is important to good leadership, but too much empathy can weigh you down and lead to burnout and poor decisions. This can be avoided by moving beyond empathy to the uplifting experience of compassion. Thank you for the great read, Rasmus Hougaard, Jacqueline Carter, and Marissa Afton.
How To Build An Effective Working Group
If re-organizing isn't an option and you've decided that a working group is the appropriate tool for the job, here are a few things about getting up and running. Thank you for the great read, Jason Wong.
Three Foundational Components For B2B Marketing In 2022
Digital means many things to many buyers, from online commerce to mobile apps to virtual meetings. B2B marketers need to know more about their own buyers to create a digital marketing powerhouse that meets specific needs. Thank you, Rob Sanchez, for the great read.
Experiential Marketing: 5 of the Top Trends From 2021
Let's take a look back at some of the biggest stories over the last year and some of the top trends. Thank you for the great read, The Drum Team.
Building a Culture of Innovation
Successful leaders understand that a culture of innovation is built on strong teams. Here are some insights into what it takes to build those teams and inspire real change. Thank you for the great read, Skyler Mattson.
The Best Productivity Tools and Tips For Hybrid Teams in 2022
Rather than try to optimize your virtual office with dozens of software widgets that are overkill, focus instead on knowing the basics like the back of your hand. Thank you for the great read, Nick Wolny.
8 Emerging Visual Trends for 2022
It's a new year, and online culture has shifted significantly over the last 24 months. Updating the presentation style of your posts, or re-arranging your photoshoots and product displays to match consumer interest, can yield solid results. Thank you, Andrew Hutchinson, for the great read.
What High Performers Do Differently
There is a misconception that high performers are just naturally better. We think they have more talent and better skills. But all of those attributes are not the cause of high performance, they are the result of it. Thank you for the great read, David Burkus.
Using Language To Unlock Your Audience
Language has incredible potential. If you get the right ones, in the right order, you can nudge the world a little. Thank you, Amy Boone, for the great read.